Top Destination Wedding Locations in Montego Bay
Do you want to get married in a tropical paradise without having to go all the way around the planet? Montego Bay, Jamaica is one of the top destination wedding locations in the world! In this article we discuss Montego Bay as a destination, but we also consider some of the top destination wedding locations in Montego Bay. Here's our quick overview of what Montego Bay has to offer from the perspective of the destination wedding travel agents at Enlighten Excursions and our happy clients.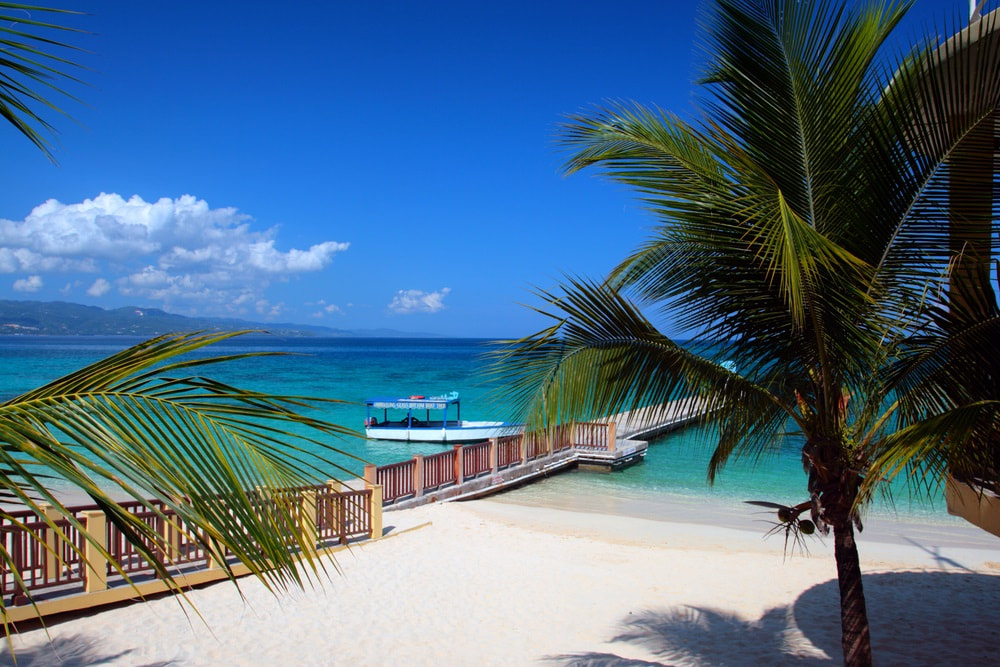 Why Get Married in Montego Bay?
Love the idea of a destination wedding, but don't want to break the bank? Jamaica is calling your name. It has numerous all-inclusive resorts, any one of which could make the ideal venue for your destination wedding. Remarkably, as long as all of your guests stay on-site at the chosen resort, most hotels will often provide free amenities or discounts based on the size of your group. What's an example of an amenity you may receive? How about a free room? Yes, your destination wedding travel agent can work with the hotel to make that happen.
When you opt for an all-inclusive experience, you won't need to worry about budgeting every little detail. You and your guests will have most of what you need on hand already—food, beverages and entertainment! This certainly eliminates some of the potential stress involved with what ought to be the most amazing weekend of your life.
Lots of couples envision a fairy tale backdrop for their destination weddings, and Montego Bay delivers that. Gorgeous sapphire blue Caribbean Sea surrounds the island of Jamaica. It's a destination rich with beautiful golden sand and white sand beaches. In fact, Jamaica's coastline goes on for nearly 700 miles. If you've always dreamed of a wedding somewhere enchanting and tropical, then it's hard to do much better than dreamy Jamaica.
Seeking a top destination wedding location full of culture? Jamaica is unique in part because of its culture. In Montego Bay, you can experience music, art, dance, entertainment, and history. See why reggae music moves the soul, hear the story of Rastafari at a riverside Rasta village, and have lunch in a Maroon community. For more ideas on activities in Jamaica check out our article 12 Exciting Experiences for your Jamaica Destination Wedding Group.
Part of the fun of a destination wedding is getting to enjoy your travel destination. Perhaps you've visited Jamaica since you were little and love enjoying Doctor's Cave Beach. Or maybe it's always been your dream destination and you want to take advantage of all the area offers. This list is long but it includes ziplining, snorkeling, golfing, and more. And you can enjoy of all of this right up to the day of your wedding.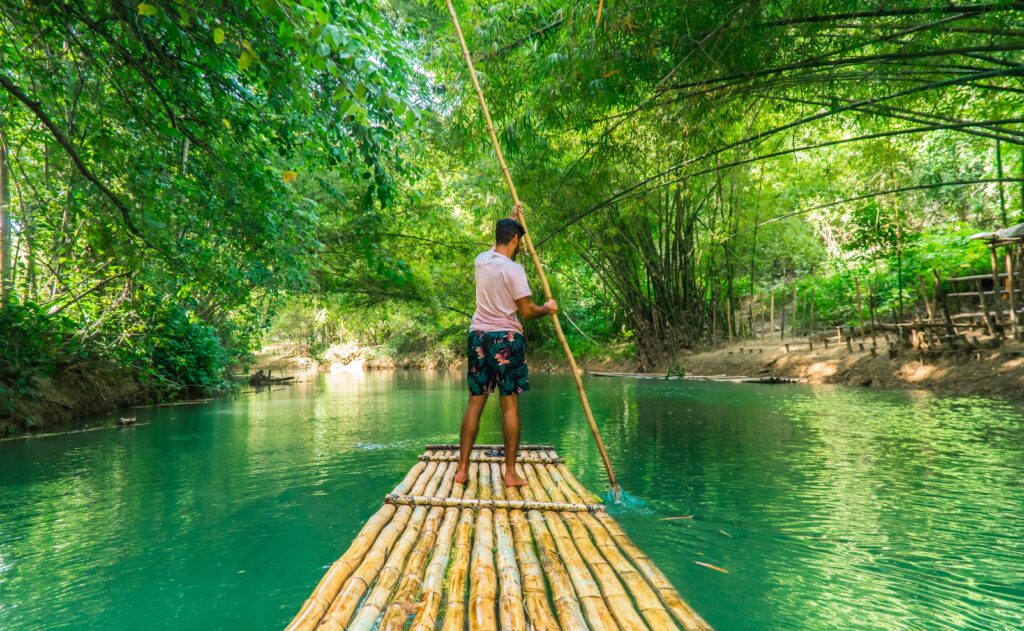 Best All-Inclusive Resorts for Destination Weddings
Part of what we love about Montego Bay is that it has some of the best all-inclusive resorts in the Caribbean. MoBay has a nice assortment of both Family-Friendly and Adults-Only All-inclusive resorts. Below we discuss a few of the top destination wedding locations in Montego Bay.
The stylish adults-only all-inclusive Secrets Wild Orchid resort is ideal for an intimate destination wedding. The venue itself features 24-hour room service, seven gourmet restaurants, nine bars and lounges, and so much more. For weddings, however, the resort offers 8 wedding packages to choose from depending on your wants and needs.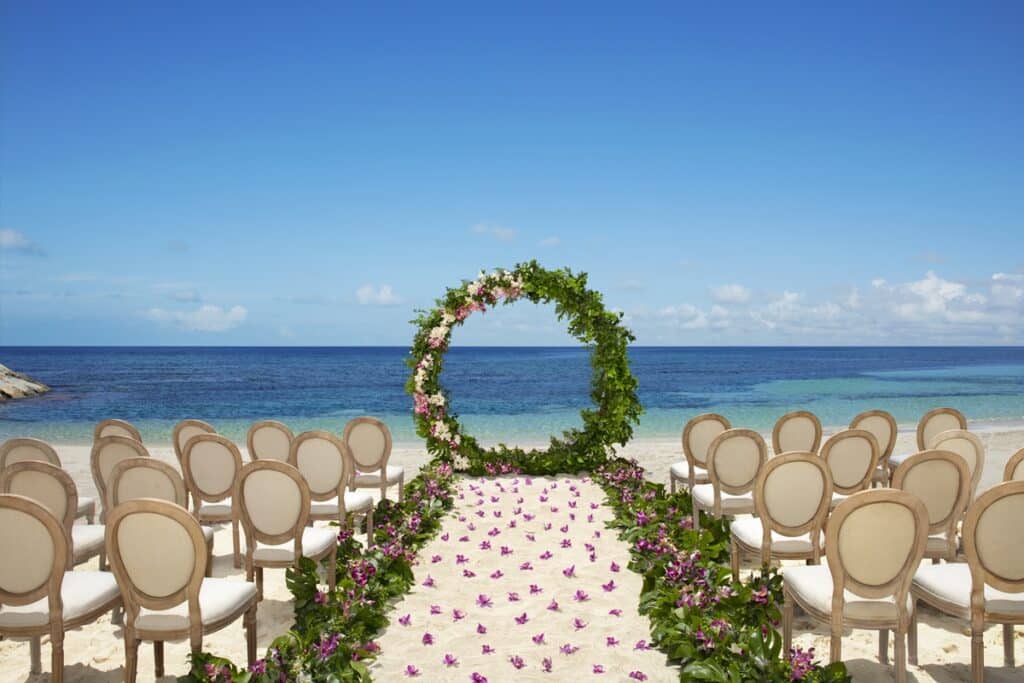 Once you walk down the aisle, Secrets Wild Orchid offers various honeymoon packages allowing you to celebrate in style. Your destination wedding travel advisor can help you understand which amenities apply.
All guest accommodations have cozy balconies, whirlpool tubs and minibars that housekeepers refresh daily. For a higher level of luxury guests can choose an upgraded suite in the Preferred Club section of the resort. Preferred club guests enjoy special amenities. These amenities include a VIP guest lounge, premium brand alcohol, special concierge services, suites in premium locations and more.
Its romantic vibe and ambiance earns Sandals Montego Bay a coveted spot among the top destination wedding locations in Montego Bay. A gorgeous and romantic spot for your wedding, this amazing resort has a variety of ceremony venues for destination wedding couples. First, there is the Intimate Resort Chapel. Fountain pools and lush greening frame this beautiful secluded wedding chapel. Another option is the over-the-water wedding chapel that features a 360-degree, panoramic water views and a glass floor aisle. In addition, you could also select an Oceanfront Gazebo or a beachfront wedding on pristine white sand. Additional options abound. At Enlighten Excursions as Certified Sandals Specialists we work with the entire Sandals team to help make your destination wedding dreams come true.
Equally important as the varied wedding venues, we love, love, love the upgraded room category selections at this resort for our destination wedding couples. This Sandals resort has a wide variety of beachfront and swim-up suites with butler service. And the Ocean Front swim-up suites are a brand-new addition to this resort. It has everything you need to go right from the excitement of the wedding to the bliss of pampering yourselves on your honeymoon.
At the Hyatt Ziva Rose Hall, you can have the wedding of your dreams. First, this hotel offers both indoor ballrooms and beachfront wedding venues that can accommodate up to 1,000 guests. What's more, we absolutely love the sky lounge for our wedding couples as well as the ocean gazebo and deck! And, this is the perfect resort if you're having child friendly wedding weekend. 
With 8 restaurants this all-inclusive resort provides plenty of dining options. And yes there's a swim-up pool bar as well as evening entertainment. Additionally, we think this is a great resort for a seamless split-stay for your wedding and honeymoon. You can start with your family friendly wedding at Hyatt Ziva and then head right next store to the Adults-Only Hyatt Zilara to start your honeymoon. Obviously, with this kind of versatility and convenience, it's easy to see why this is one of the top destination wedding locations in Montego Bay.
Iberostar Selection Rose Hall Suites
Are you dreaming of a wedding on the beach? Iberostar can not only deliver on that front but they can also provide a fun-filled stay for you and your wedding guests. This large property has become one of the top destination wedding locations in Montego Bay Jamaica for couples seeking an affordable family-friendly all-inclusive resort.
First, most brides have nothing but great things to say about destination weddings on the beach here. Undeniably, this beach is the ideal setting for ceremonies of 250 or fewer guests. Alternatively, couples with 80 or fewer guests have the option of holding their weddings on the scenic Lazy River Island.
Furthermore, if you love the idea of getting married where the action is, the Iberostar Selection Rose Hall Suites is definitely worth considering. Because of its location near an urban area called Rose Hall, wedding guests can go off-resort if they'd like. This offers a more authentic experience mingling with locals, and learning about the typical Jamaican culture and lifestyle.
In addition, this all-suites resort also has excellent service and entertainment and it's child-friendly, offering a waterpark for kids ages 6-12. Additionally, all resort guests can enjoy the lazy river, free tennis, and non-motorized watersports. Many guests also enjoy spending time in the hotel's onsite casino and neighboring Cinnamon Golf Course that offers preferred rates to guests.
Best Time of Year to Get Married in Montego Bay
Those considering getting married in Montego Bay should be aware that the weather for destination weddings is best from December to April. Afterall, this is when Jamaica is warm and sunny and rain is less likely. But, even during the rainy season Jamaica accommodates many destination wedding brides with thunderous but cooling downpours in the early afternoon followed hours later, or sometimes minutes later, by perfect sunshine.
Legal Weddings in Jamaica
Many destination wedding couples choose symbolic weddings to avoid the hassles involved with a legally binding ceremony. Compared to many other locations Jamaica is one of the easier tropical islands for legal marriages. Most couples can get married 24 hours after arriving in Jamaica if they've already applied for a marriage license through the Ministry of Justice.
Unfortunately, same sex marriage is not legal in Jamaica. And because anti-gay laws there have penalties of up to 10 years imprisonment, gay couples are discouraged from any public displays of affection.
Documents Required for legal weddings include:
• Proof of citizenship — certified copy of your birth certificate, including father's name
• Parent's written consent if under age 18
• Proof of divorce, if applicable, in the form of an original certificate of divorce
• Certified copy of death certificate for widow or widower
Regardless of whether you choose a symbolic or legal wedding your Certified Honeymoon and Destination Wedding Specialist at Enlighten Excursions can work with you and your onsite wedding coordinator to make it all happen!
Are you ready to start planning your wedding in one of the top destination wedding locations? Montego Bay awaits! Our destination wedding travel agents at Enlighten Excursions are here to help as you decide the best places to have a destination wedding and the perfect venues to make your wedding dreams come true.