Top Destination Wedding Locations: Riviera Maya, Mexico
When planning a destination wedding, there are a lot of factors to consider. One of the biggest, as you've probably come to realize, is your location. Where will you make this joyous commitment a reality? While a fairy tale wedding in the Black Forest of Germany will render enchanting photos, crossing an ocean may put quite the price tag on your chosen destination.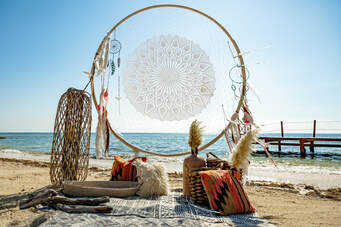 ​Well, what if we told you a magical wedding destination was much closer to home with every ounce of exotic beauty your nuptials require? While you could choose a destination in Europe, or on an island in the Pacific, the convenience of reaching the Riviera Maya from the DMV, (DC, Maryland and Virginia) is quite appealing.
That's right; pack your bags, lovebirds. The Riviera Maya awaits!​ The Mayan Riviera is an area along the Yucatan coast of Mexico just south of Cancun, including several major cities and Caribbean islands. A land once filled with mystical peoples and jaguar-filled jungles, the Riviera Maya is now one of the most popular resort destinations in North America due to its exotic beaches, charming locals, and accessible location, it is the ideal destination for your wedding for a number of reasons.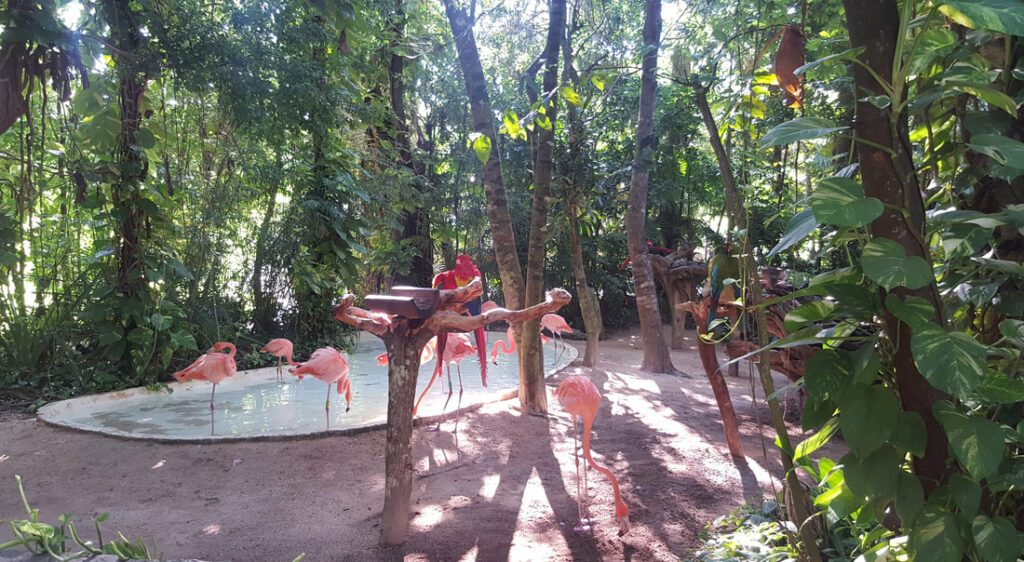 First of all, it's a magical area that is just begging to have a permanent place in your destination wedding photos. With a mean annual temperature of around 77℉, the weather for large portions of the year is fit for a tropical paradise. Enjoy an explosion of color across white sandy beaches for your sunrise shot, or catch the ancient glow of the sun stretching beyond the jungles for a breathtaking sunset.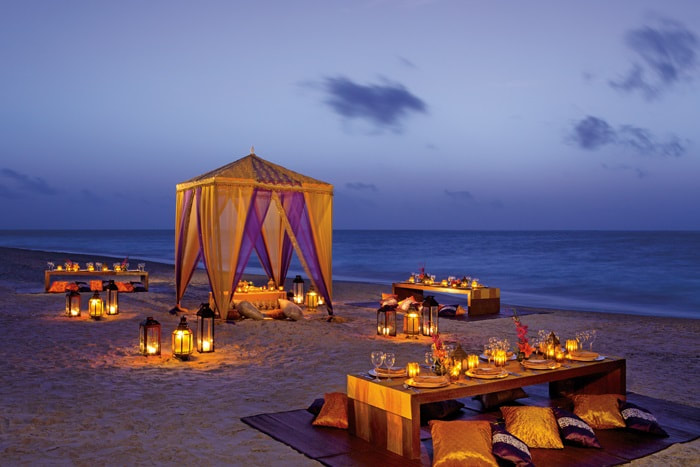 Secondly, the planning has never been easier since the entire region is covered in five-star, all-inclusive resorts that take the guesswork out of any wedding planning!

Enjoy scenic, luxury accommodations for both the wedding and the honeymoon at some of our favorite luxury all-inclusive resorts such as Grand Velas Riviera Maya, Unico 20° 87°, Hotel Xcaret, or Dreams Riviera Cancun.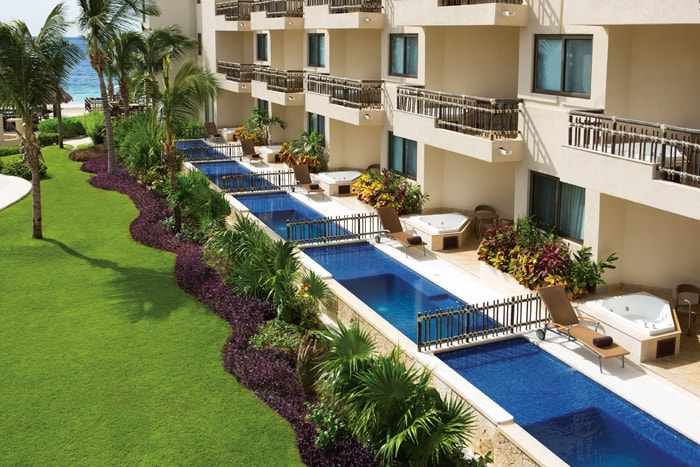 Chances are, if you're wanting to get married on the coast, you'll want to get married on the beach. Why wouldn't you!? The beach provides a great backdrop for any ceremony, especially in the Riviera Maya. The peak season for a beach wedding here is from December to April during the when you'll experience near-perfect weather. Just be sure to use an experienced travel advisor if you're booking in March or April, or else you may book your intimate ceremony right down the beach from spring breakers descending on the Yucatán's shores.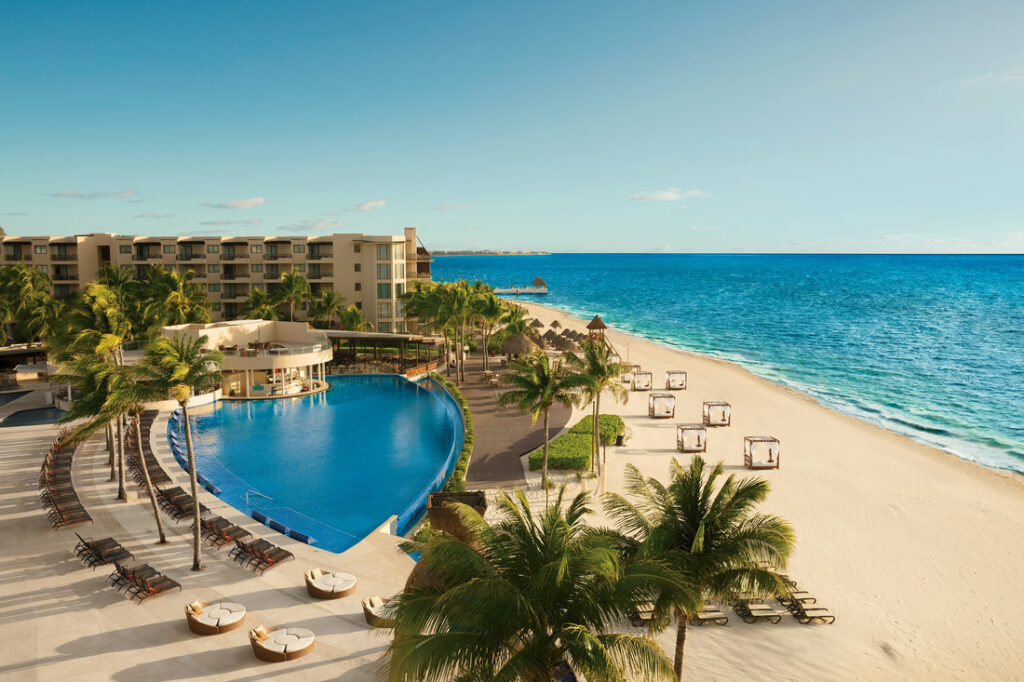 Summer months can be sweltering in the high nineties, and it's also the start of hurricane season. So if you're a June Bride, (or July or August Bride for that matter) carefully select cooler ceremony times if you're getting married on the beach so that you maximize the ocean breeze and don't forget to purchase travel insurance in case mother nature intervenes. Fall is the rainy season and can also potentially see hurricanes, but deals can sometimes abound since it's both low season and hurricane season. Still if you're not a risk taker, then winter and early spring are your best bets for saying romantic vows in style on the beach.​

So you've got your significant other, you've got the time of year, now you just need to pick a place. While there are several fantastic options for your blessed day, some or our favorites really shine in terms of customizing your destination wedding to make your unique statement clear!
​Dreams Riviera Cancun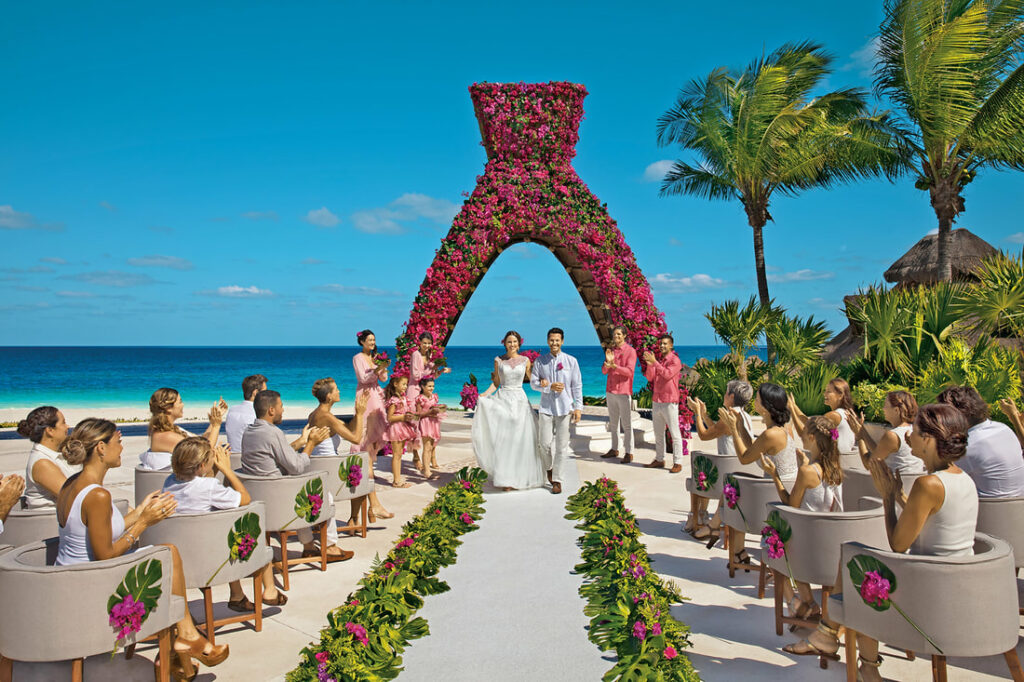 Our other choice favorite in this region is the acclaimed Dreams Riviera resort in Cancun. Built along stretches of white beach sand and nestled in the lush tropical gardens by the Caribbean Sea, Dreams Riviera Cancun Resort & Spa is an oasis just begging for you to say "I Do". Centrally located in the region, it's perfect for enjoying the hustle and bustle of Cancun and Playa del Carmen. With an AAA Four-Diamond rating, we cannot recommend this resort highly enough.

The hotel itself features beautifully furnished, unique octagonal-shaped rooms and suites that feel as spacious as they do luxurious.
Our friends at Dreams Riviera Cancun do their best to avoid cookie-cutter weddings. We work with the on-site coordinators there who do their best to take your dream Pinterest board and make it a reality. The Ceremony packages here coupled with the extras that can be provided give you an extensive array of options amounting to almost everything you might want to orchestrate your wedding day in paradise. From the minister to hair and makeup and ironing your wedding day attire, our partners at this resort takes care of you on your wedding day.

For the special day in paradise, many of the various packages include everything you could ever ask for in a wedding. The bouquet and boutonniere for the wedding couple are supplied, as well as two boutonnieres and two corsages for the wedding party. Some packages include Wedding Cake, sparkling wine, private dinner reception and a private cocktail hour with hors d'oeuvres. The main packages cover 10-20 guests and carry reasonably competitive per guest fees for additional guests.
​
Staff photographers will be there to catch every smile, tear, and special moment as you two enjoy an all-inclusive stay for your all-inclusive day.
Your guests will also love the atmosphere the resort has to offer, including fantastic lodging options as well as first-class dining experiences at the Barefoot Grill, the Bordeaux, Coco Cafe, El Patio, and many other themed, international cuisine restaurants that will have a place for everyone to enjoy. Enjoy an all-inclusive spa treatment, relax in the fitness center, or just enjoy long walks on the beach. There are so many things to see and do at the Dreams hotel, you won't want to miss a moment of it!
Grand Velas Riviera Maya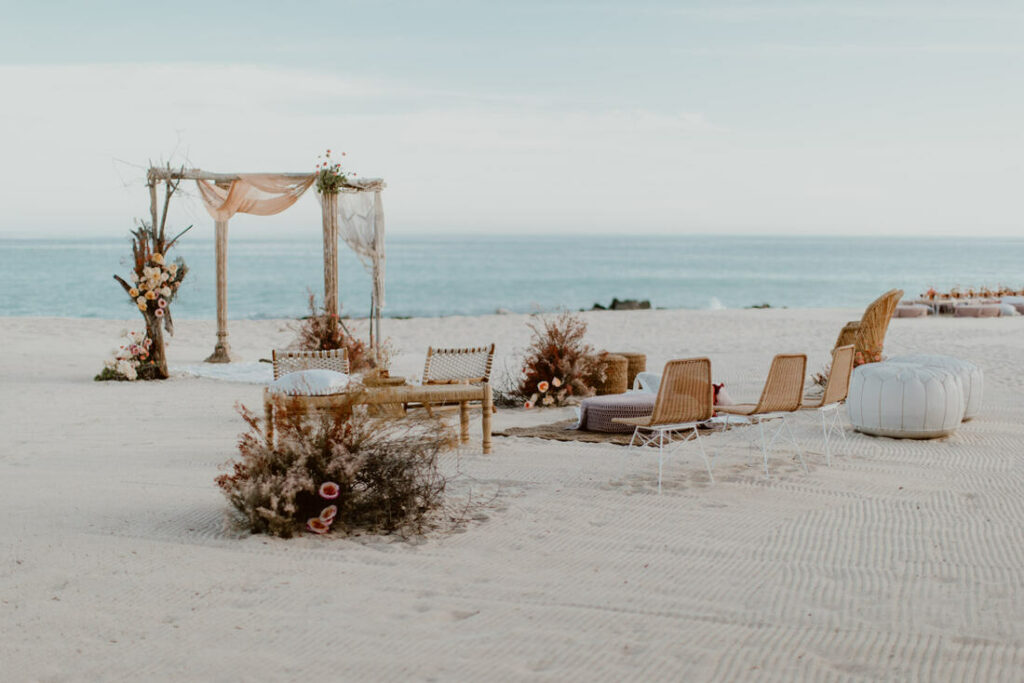 Luxury and relaxation are considered common amenities at Grand Velas. Whether you're soaking up the rays in a stunning Caribbean sunset from the beach or your private terrace, this resort is a fantastic place to enjoy your stay. Enjoy a variety of local and international dishes served up by three distinctive restaurants that will delight both your significant other and any family members and friends joining you to make the most out of your big day. And nothing says "destination wedding" quite like treating yourself to a luxurious spa appointment the night before a wedding.

But this resort also has many other entertainment options specifically designed for the happy couple. Enjoy a couples' massage by the beach, go on an underwater sea-trek to see marvels beneath the waves, or enjoy sipping drinks at a private seaside picnic.
Unico 20° 87°
​Unico is known for offering suite packages with unlimited inclusions, and what better way to spend a beautiful wedding and quality honeymoon? From the local nature of their food and drink to the spa treatments and hand-curated adventures, this place is the perfect vacation spot in the Riviera to provide you with comfort and all the amenities you could dream to ask for. Burn off all your nerves and extra energy in their state-of-the-art fitness center, open 24 hrs a day or relax with a game of golf. Whatever the case may be, Unico has you covered.
​Hotel Xcaret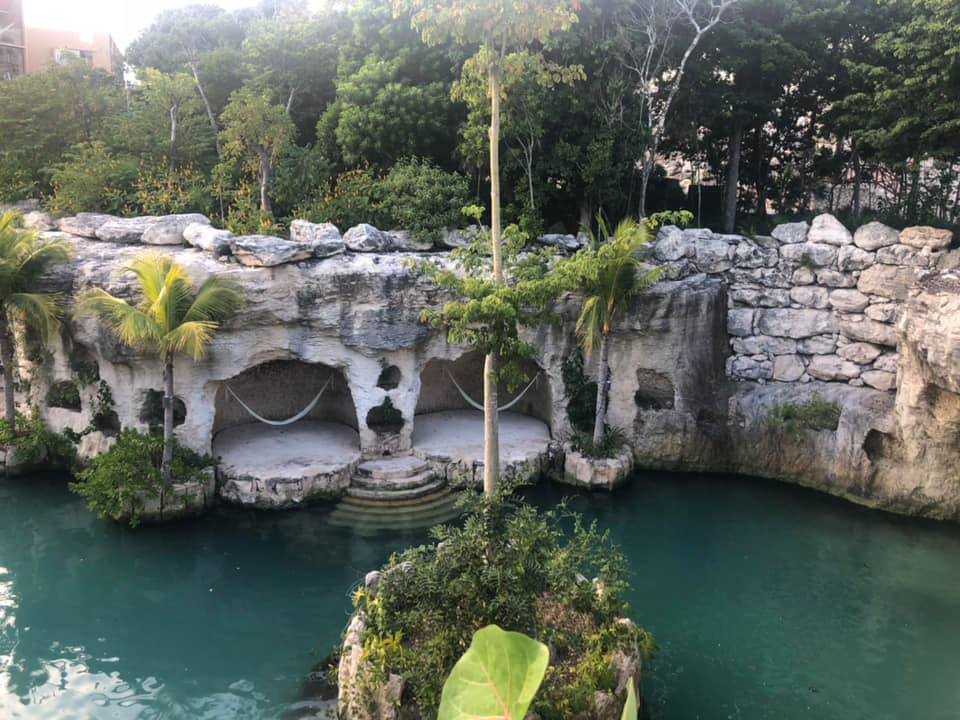 The Hotel Xcaret is one of our favorite resorts. First because the grounds are stunning!!! Built as an all-inclusive ecotourism resort, Xcaret really re-defines what it means to be an all-inclusive resort. With poolside suites, explosive colors, and over nine different parks available to enjoy, you might begin wondering where you'll have time to cram in a wedding! The suites and hotel rooms are spread out over Casa Viento, Casa Tierra, Casa Agua, Casa Espiral, and Casa Fuego., all named after elements important to the Mayan culture that the hotel does its best to embody.

Activities, in addition to your wedding, of course, include fantastic nature-based excursions such as snorkeling along the carefully cultivated reef or swimming with dolphins. Xel-Ha, one of the parks run by the hotel, is a fantastic place to scuba dive and see all the wondrous colors and creatures the Caribbean is famous for. Xcaret also protects its own Mayan Ruins you can walk about, or swim in beautiful underground aquafers hollowed out by thousands of years of underground rivers.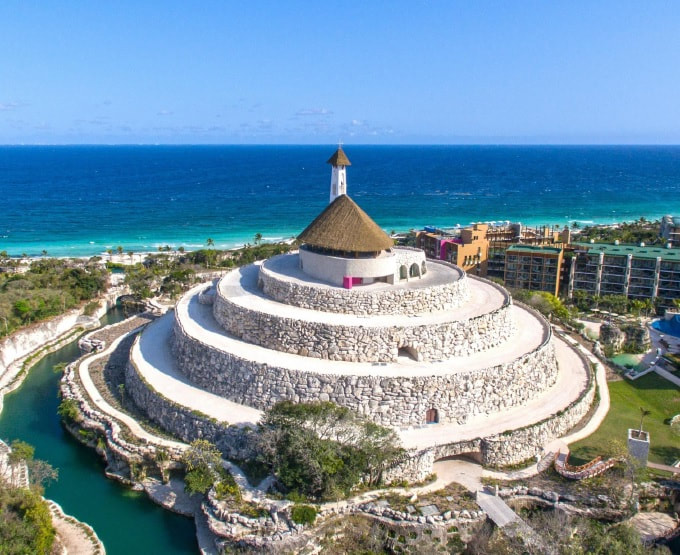 Weddings at the Hotel Xcaret are beautiful and diverse, allowing you to customize your special day to your own tastes. Whether your family wants a Mayan, Jewish, Hindu, symbolic or religious ceremony, the complex has plenty of unique and stunning venues to pick as your backdrop. By far their most popular location is the catholic chapel built on top of a stepped pyramid looking out over the blue Caribbean Sea.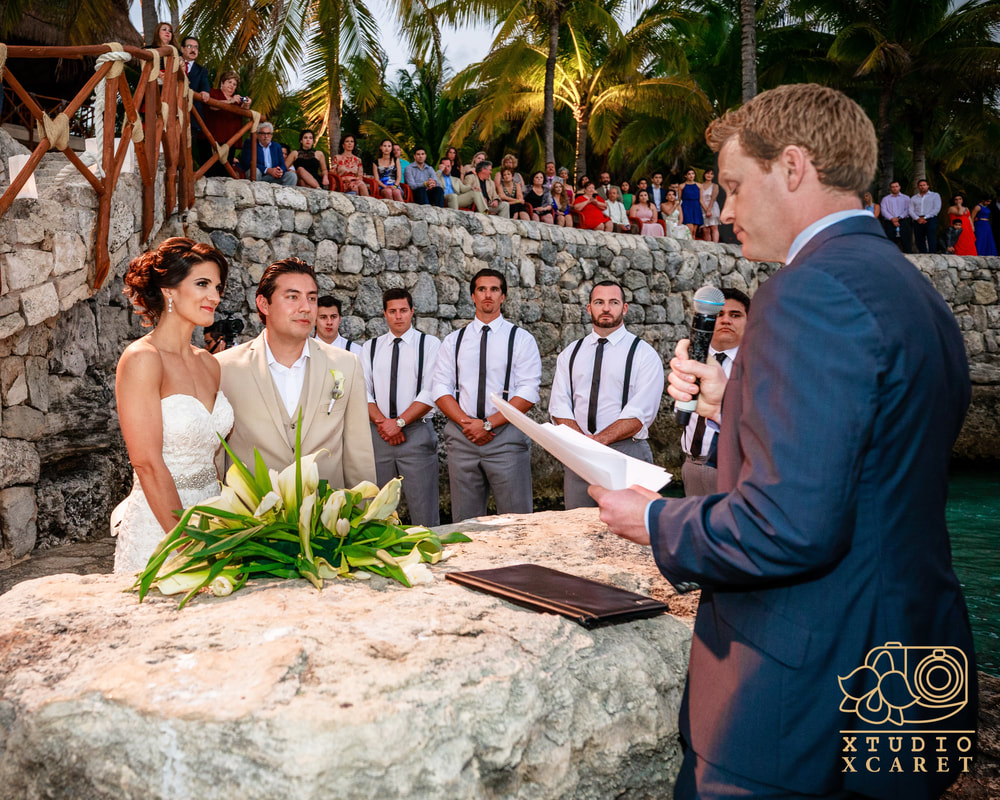 The Muluk Spa is here to pamper you and help make you glow for your ceremony with a staff that is ready to assist you however they can. Your guests also receive a 15% discount on treatments here. The Xcaret's bridal suite is at the spa and has the perfect regimen and experts to help with the finer details. In addition to romantic amenities on the wedding night, wake up to a romantic breakfast the morning after the ceremony with your new spouse.
Guests joining you will have access to 9 sightseeing experiences and theme parks affiliated with the resort– all as part of their room rate!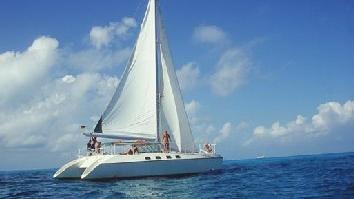 And don't forget that your travel advisor can also help to plan other unique touring packages just for you and your wedding guests.
All weddings can be stressful. Whether you're planning a whirlwind elopement or plotting out a year-long engagement, there are a lot of things that go into planning that special day. For example, understanding the various all-inclusive resorts' destination wedding packages can seem daunting, and comparing two different resorts' offerings can get seriously confusing.
But if you're worried about the planning, fear not! The moment you sign a contract with Enlighten Excursions you will be assigned a Certified Destination Wedding Specialist to work with you on selecting your destination, resort, and your wedding package and then work with you and your guests until everyone returns home with amazing memories. Your specialist will help you pull off the perfect destination wedding. ​
​The beauty of a destination wedding, especially when working with a certified destination wedding professional is that it can alleviate stress and reduce your epic to do list so that you and your partner can enjoy your fairy-tale day together.
The Riviera Maya is a magical place with some of the most amazing and world-renowned hotels and resorts in the Americas, allowing you international luxury in your own back yard. So, as you sit down and make up those guest lists, remember there is an ancient place that would love to be the backdrop to the most important day of your life.

¡Bienvenido a la Riviera Maya