What to Wear to a Destination Wedding
It's not unusual for guests to wonder what to wear to a destination wedding. Destination wedding dress codes range from beach casual (a simple sundress will suffice) to tropical formal (a long chiffon, tulle, lace or rayon gown, or a maxi dress with accessories might be the best choice.)
Many savvy couples are speaking up when it comes to guests' destination wedding attire. So be sure to check the invitation, the wedding website, or your travel documents for information on the destination wedding dress code. If no dress code is stated, then you can always consult the oracle (Google, that is) to find pictures of prior weddings at the chosen resort. But, the safest move probably lies in the middle ground—Beach Semi-Formal attire. 
Beach/Tropical Semi-Formal
Quite often the couple's apparel guide for destination wedding guests calls for beach semi-formal. So, what exactly does beach semi-formal mean? The objective of semi-formal is to go from day to night while looking elegant all along the way. It's dressier than casual but still comfortable.
Semi-formal means no jackets required and ties are optional.  But, it also means no shorts or men's sandals either. Opt instead for long khaki slacks with leather boat shoes or closed toe loafers and no-show socks.
For the ladies, let's leave the little black dress in the closet and consider more flowy maxi or midi options paired with wedges, flats, or even gladiator sandals. The tropical semi-formal dress code gives you loads of options, for example a dressy jumpsuit could make the cut. If you haven't been given guidance on what to wear to a destination wedding, the key is to dress to impress, yet keep it comfortable and fun with tasteful prints or bold accessories like statement earrings.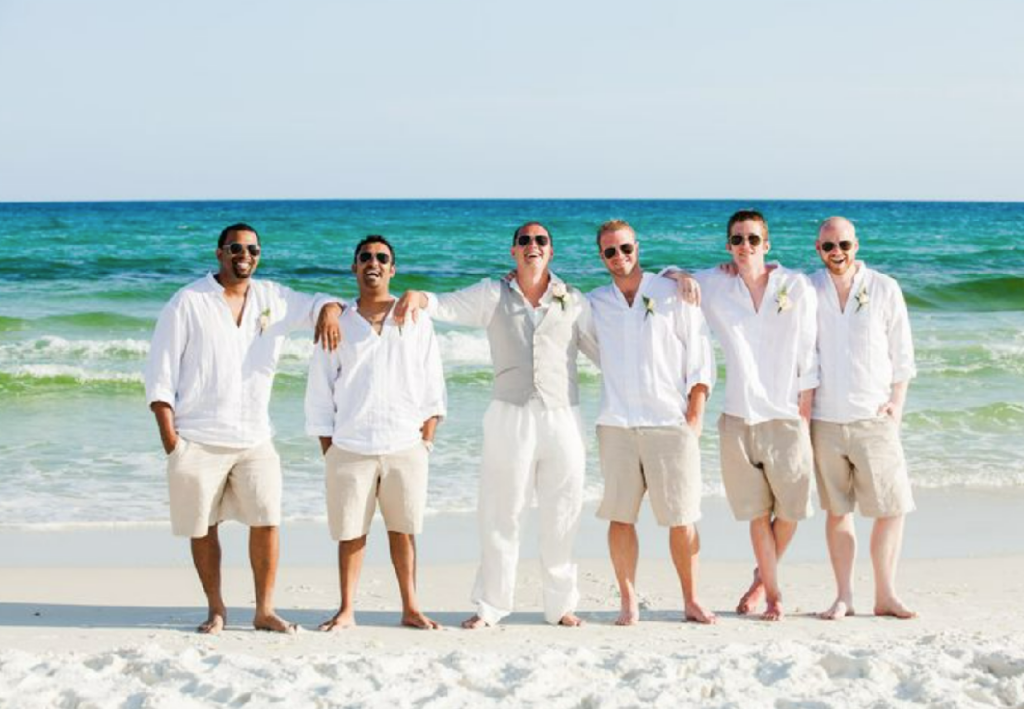 Nice, three-quarter length sleeved shirts, or short-sleeved shirts (either button down or polos) are permitted. Nice khakis or dressy shorts are often acceptable, like Chinos or Dockers with a belt. Lightweight fabrics such as linen and cotton are encouraged. Light or pastel colors and/or bold prints will dress up your casual ensemble.
But fellas, please don't get too casual. For example, tee shirts, tank tops, denim shorts, cut offs, cargo or swim shorts would not be appropriate. 

With a beach casual dress code, a very simple sundress works well. Or, perhaps a tasteful romper, shorts suit or a breezy maxi dress. While dressy sandals are acceptable, avoid plain beach flip flops. Feel free to go bold with colors and prints that evoke tropical fun.
One of the biggest questions when it comes to what to wear to a destination wedding revolves around footwear. Typically, it's fine to wear a deck shoe or loafer but not sneakers. If you decide on dress sandals make sure your beautiful feet are neatly groomed if you're opting for the open-toe look. For a wedding on the sand, if you decide or the couple encourages guests to go barefoot, ladies feel free to dress things up with a beautiful barefoot sandal/anklet.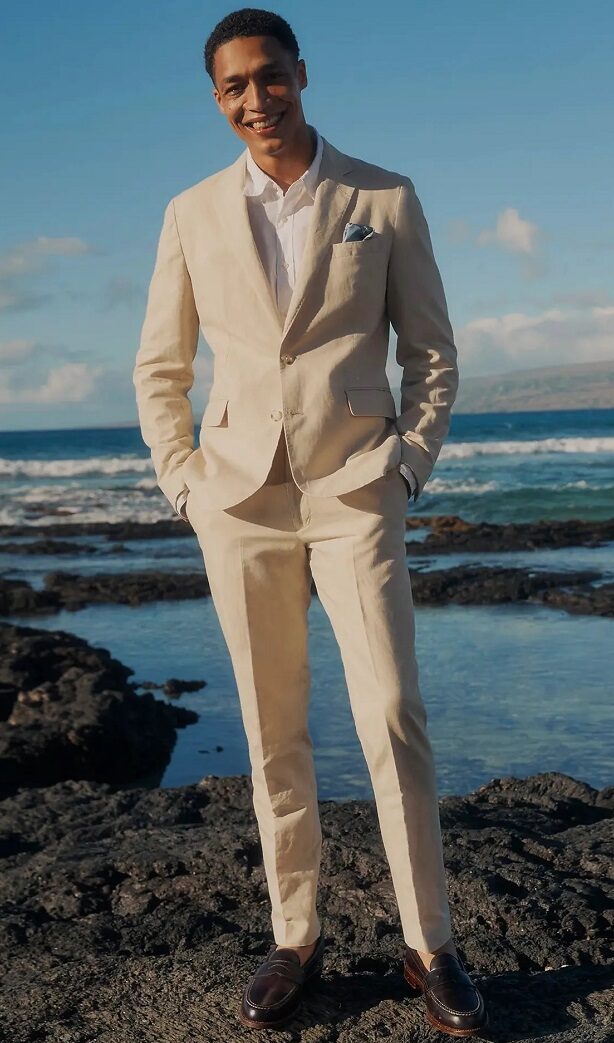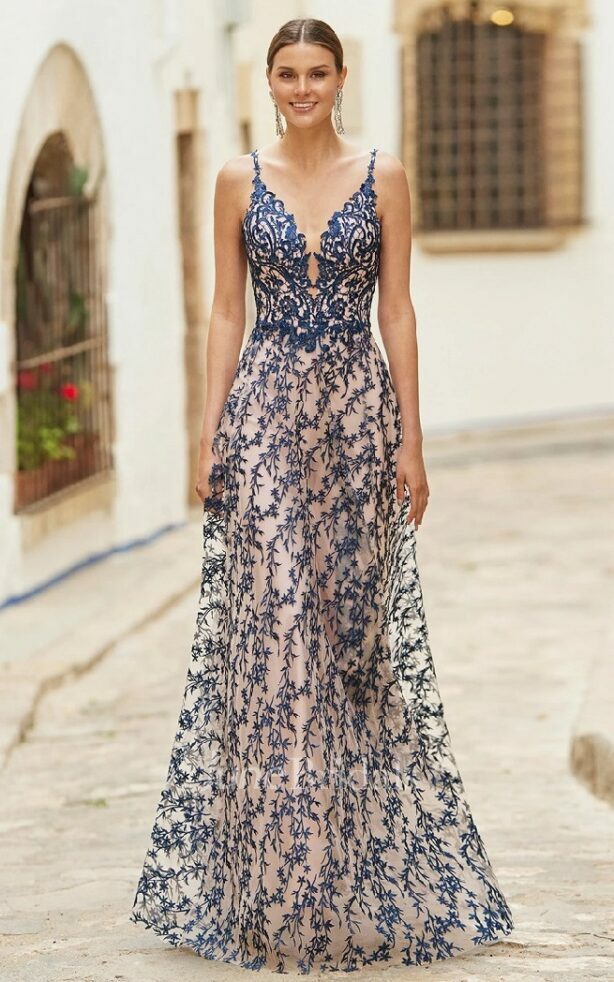 Long dresses work best for a tropical formal event, try adding lace to enhance the elegance. Dressy tea length formal dresses made of fancy material can work too. You can also choose from an assortment of sleeve lengths and necklines. Sleeveless, strapless, deep V and halter are some of the most popular dress styles for formal events in tropical locations. Lightweight fabrics such as cotton, silk and spandex are viable options. Moreover, unlike black tie events you can be creative with colors. Feel free to choose pink, turquoise, yellow and other colors you wouldn't normally wear to formal events.
To adorn your feet flats or heels work well depending on the ceremony venue. Dress sandals absolutely work. Be sure to choose something comfortable and cute perhaps with beaded or sequined embellishments, or something with a wedge or a heel. Plain rubber flip-flops are a no-no. Espadrilles also work.
Like dresses, destination wedding suits can also be lighter in weight and color. A light grey linen suit is the perfect example of this. In addition to linen, seersucker, and cotton could work for warmer climates. And, light colored suits can feel cooler and lighter, so perhaps choose a khaki, beige, grey, sea green or pastel blue. If suits aren't your thing consider lightweight solid-colored slacks with a button-up shirt, suspenders and a tie.
With your suit choose loafers with or without socks or depending on the couple's wishes men's leather sandals may be an option.
In the final analysis, lightweight and breathable is the name of the game. And, remember, when in doubt about what to wear to a destination wedding, check for guidelines on your wedding invitation, the couple's wedding website, or your travel documents. If there are no guidelines then consider the venue's style or go tropical semi-formal and you'll be well dress for almost any destination wedding.