Top 10 Reasons to Choose a Mexico Destination Wedding
While personal preferences, tastes, and circumstances can vary, destination wedding brides from all walks of life frequently choose Mexico for their weddings. While trendiness can't be discounted as a contributing factor, the appeal of Mexico runs much deeper. From our perspective, here are the top 10 reasons to choose a Mexico destination wedding:
Mexico is known for its stunning beaches, picturesque landscapes, and colorful architecture, making it a popular destination for weddings. Southern Mexico boasts breathtaking scenery, from dazzling beaches and rugged coastline to magnificent mountain ranges and tranquil deserts. This makes Mexico is a favorite destination for nature lovers. Between its breathtaking natural beauty and vibrant culture, it's no wonder why couples flock to Mexico for their destination weddings.
Compared to other popular wedding destinations, such as Europe or the Caribbean, Mexico can be more affordable for couples and their guests, offering great value for the money. This makes it easier to stretch the wedding budget and incorporate more unique elements in to your wedding. For example, local cuisine, traditional music, or authentic decor can be employed to design an unforgettable wedding experience for everyone. Plus, the many all-inclusive resorts that Mexico is famous for, make planning a destination wedding much easier.
With year-round sunshine and warm temperatures, Mexico is an excellent option for couples who want to have an outdoor wedding. It's also a favorite for couples who want to enjoy a beach honeymoon. The weather allows endless outdoor wedding opportunities, from intimate beach ceremonies to larger garden weddings. Additionally, you can take advantage of the sunny climate and get married under the stars or by the sea, enjoying a romantic destination wedding in paradise.
Mexicans are known for their hospitality and friendly personality, which helps visitors feel welcomed and comfortable. The locals are welcoming, kind, and eager to help make your wedding day perfect. The friendly people of Mexico will have you planning your next visit before the wedding is over! With the friendly people of Mexico by your side, your destination wedding is all but guaranteed to be a success.
Mexican cuisine is world-renowned for its bold flavors and variety, offering a unique culinary experience for wedding guests. Mexico's culinary offerings are sure to please any palate, from street tacos and flavorful fajitas to mouthwatering mole and creamy guacamole. Spice up your wedding with creative Mexican dishes, or let the local chefs surprise you and your guests.
Mexico has a rich and diverse cultural heritage, with many opportunities to incorporate local customs and traditions into a wedding ceremony and celebration. With its flavorful cuisine, vibrant music, and unique artistry, Mexico offers a plethora of options for creating an unforgettable wedding experience. You can design a wedding here that won't be like any other wedding you've ever attended. And you can treat your guests to a wedding they'll never forget, full of authentic Mexican customs, cuisine, music, and more.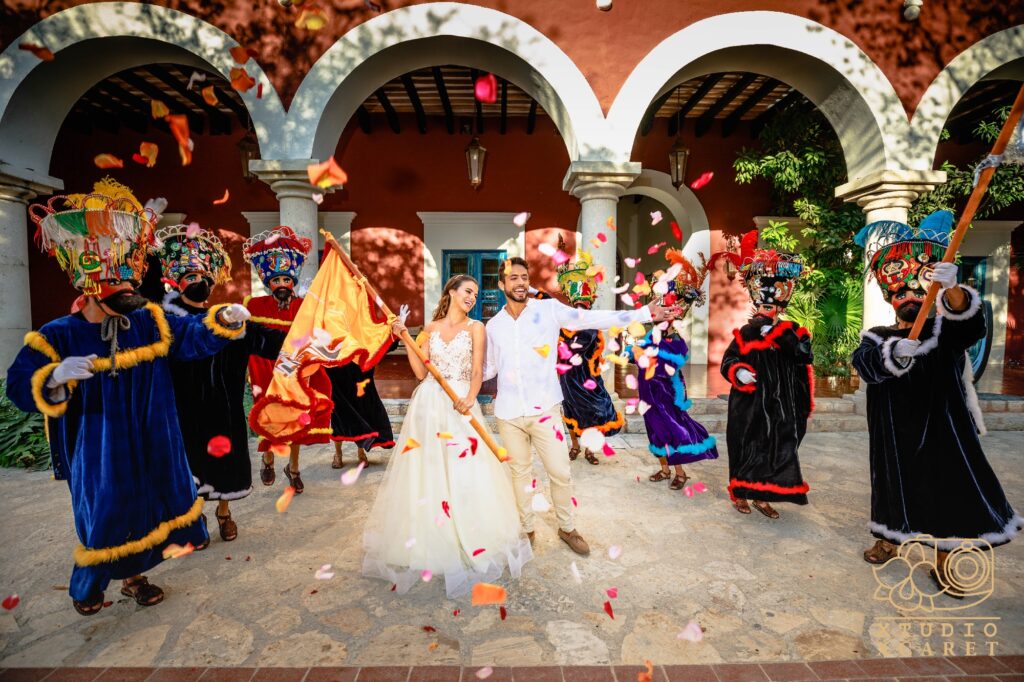 With numerous airports and direct flights from many major cities around the world, Mexico is a convenient destination for wedding guests traveling from afar. Mexico offers an array of options for visitors, from budget-friendly airlines to luxury charters, making it easy and convenient for everyone to join in on the wedding fun.
Destination Wedding Packages
Many resorts and wedding venues in Mexico offer all-inclusive destination wedding packages that can simplify planning and save couples time and money. The packages often include floral dinner, cocktails, ceremony decorations, photography, music, and more, making it easier to create the perfect wedding. Plus, many resorts offer special discounts for wedding parties. With all-inclusive packages, couples can easily plan their dream destination wedding in Mexico with minimal effort.
From exploring ancient ruins to snorkeling in crystal-clear waters, Mexico offers many opportunities for adventure and excitement for couples and their guests. Spend a few days exploring Mexico's vibrant cities and unique attractions, or take a fun-filled day trip with your guests. With so many amazing activities, you can find something that everyone will enjoy.
Mexico offers a romantic and memorable ambiance for weddings and honeymoons with its colorful sunsets, starry skies, and intimate settings. Take advantage of the breathtaking landscape and stunning views for your wedding ceremony. Or create a romantic atmosphere with soft music and candlelight. Whether you choose a beachfront ceremony or a lush garden wedding, Mexico has something for everyone. Its a breeze to create the perfect romantic ambiance for your special day.
Besides its stunning landscape, Mexico provides a unique atmosphere for weddings, with its colorful culture, vibrant music, art scene, and traditional customs. Exchange your vows with a mariachi band in the background, or have a local artist create unique pieces for your wedding reception. From ancient Aztec ceremonies to modern-day fiestas, Mexico offers couples and their wedding guests a unique atmosphere.
Mexico is the perfect place for couples looking to create a unique and romantic wedding destination. With its stunning landscape, warm climate, easy accessibility, destination wedding packages, adventure activities, and romantic ambiance, couples can find everything they need to make their special day magical. Whether looking for a beach ceremony or a garden wedding, Mexico offers something special for every couple. With its cultural richness, unique atmosphere and friendly people, you and your guests will feel at home in this paradise. 
Explore more about Mexico here. Or request a free consultation below to start planning today and make your destination wedding dreams come true!