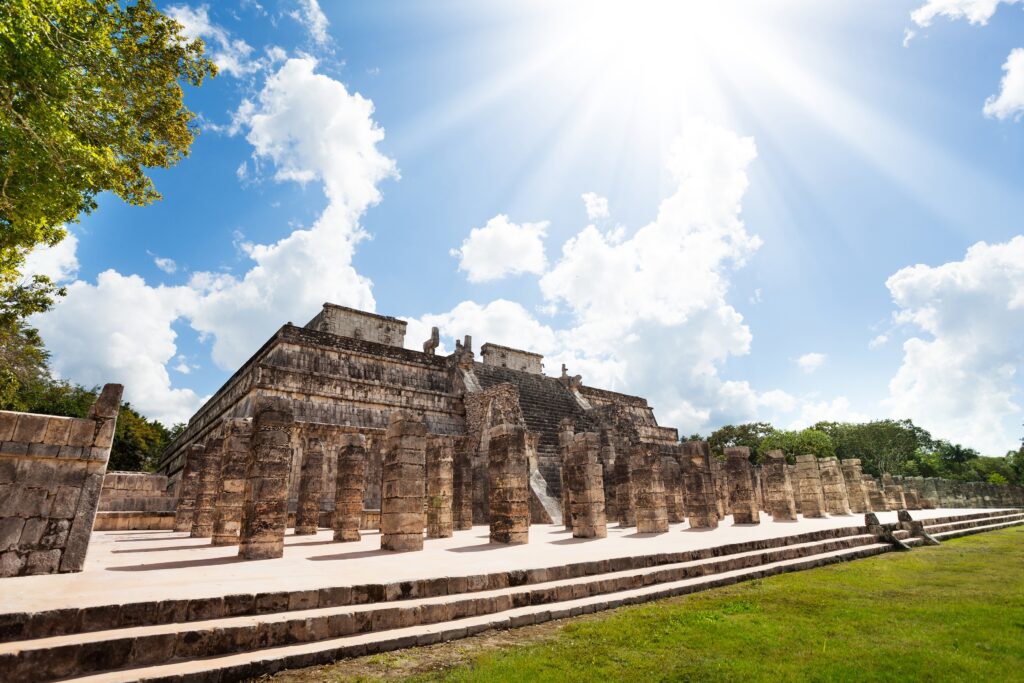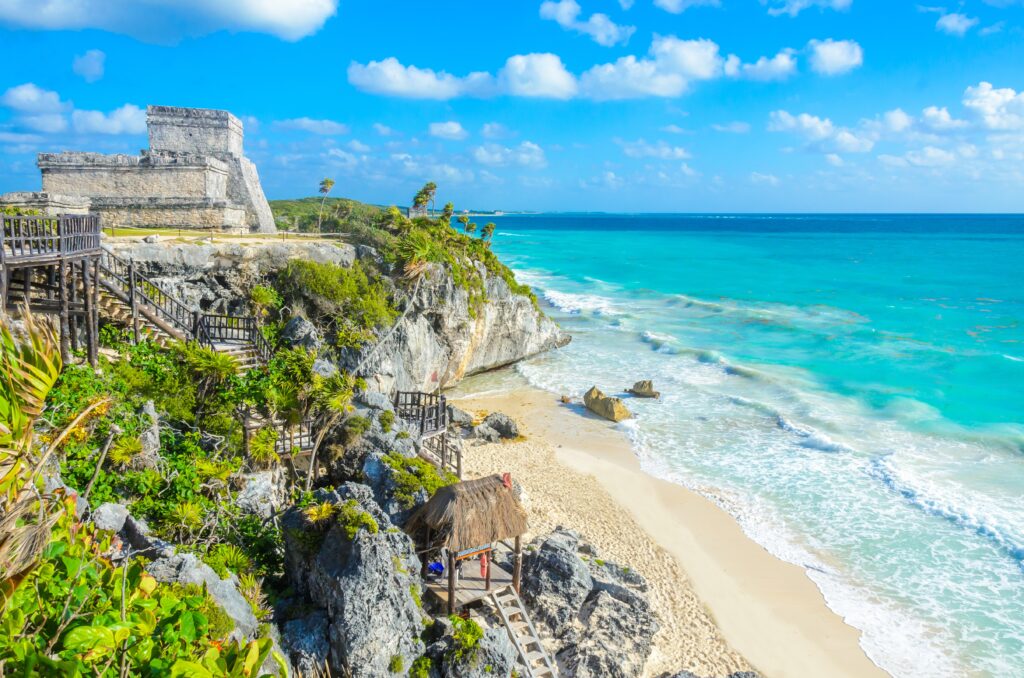 The Mayan Riviera, or Riviera Maya more popularly, extends down the Yucatán Peninsula's Caribbean coast. This coastline stretches from lively Cancun in the North, southward to the Mayan Ruins in Tulum. The popular city of Playa del Carmen with its coral reef and palm-fringed beaches boasts a central position along the Riviera Maya coastline.

The southern end of the coastline stretching toward Tulum is home to small villages and resorts spread out along sparsely populated beaches. But the area is quite famous for the wide assortment of all-inclusive resorts that are scattered throughout the Riviera Maya region. You'll also find smaller boutique properties perched on the tranquil sandy beaches of this attractive shoreline that is historically significant for its ancient Mayan heritage. Ancient Mayans lived throughout this region and the remarkable archaeological ruins like Tulum and Chichen Itza have become popular tourist attractions.
Ruins at Coba, Muyil and Tulum 

Chichen Itza

Visit Mayan Village and Temple

Xcaret and Xel-Ha

The Sian Ka'an Biosphere Reserve

Tequila Tasting

ATV, Zipline, canyoning, snorkeling, diving, and kayaking
Andaz Mayakoba

Rosewood Mayakoba

Grand Velas Riviera Maya

Hotel Xcaret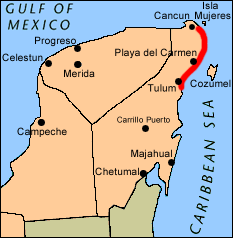 Known for its resorts, reefs, and palm-studded beaches, this town is energetic and urban. Beaches here are close to urban attractions and visitors can relax by the beach, go shopping, and go to a lively club all in one day.
Step off the beach onto 5th avenue, the premier destination for tourists in Playa del Carmen. This picturesque pedestrian walkway is lined with shops, bars, restaurants, and palm trees.
The second longest coral reef in the world, the American Barrier Reef lies off the coast of Playa del Carmen. Visitors can take a trip out on a glass-bottomed boat or go snorkeling or scuba diving to experience the reef's beauty.
For a day trip from the city just a few hours away lie the Mayan ruins of Chichen Itza, Coba, Tulum, and Ek Balam.
Located an hour from Play del Carmen, Tulum offers a more laid back and natural experience.
For history lovers, the Tulum Archaeological Zone is a walled archaeological site dating back to the 13th century that overlooks the ocean. In addition to history preserved here, there are also breathtaking views of the ocean and jungle in the surrounding areas. A short drive from Tulum, there are other ruins to explore including Chichen Itza,  Coba, and Ek Balam.
Xel Ha is a natural waterpark and aquarium in Tulum. Visitors here will enjoy snorkeling above multicolored fish, hiking on jungle trails,  restaurants and bars, and more. This all inclusive park has something to offer for everyone. 
After a relaxing day, visitors can experience the range of nightlife that Tulum has to offer. An array of rooftop bars, chilled-out cocktail spots, and beach parties will be sure to suit any mood.
For travelers searching for a calm destination filled with personality and nature, Puerto Morelos is the spot to go. As a former fishing village, Puerto Morelos is a sleepy town with lots of character
Visitors here can lounge on a sandy beach, snorkel over colorful fish, scuba dive in protected reefs and mangroves, or go on a fishing expedition. 
Puerto Morelos is known for its abundance of cenotes. Visitors can relax in the water, and some locations have the option to ride atvs, zipline, and participate in other adventure.
Jardín Botánico Dr. Alfredo Barrera Marín is Mexico's most biodiverse botanical gardens. On 160 acres of land, visitors can enjoy mangrove boardwalks, waterfalls, jungle hikes, and a suspended canopy bridge.
Book Your Dream Getaway Now
Enlighten Excursions Will Help Make Your Destination Dreams Come True