The all-inclusive adults-only El Dorado Maroma Spa Resort by Karisma, has all you need for an energetic, and authentic luxury holiday.

This cozy resort is perfect for adults seeking leisure, personalized service, exquisite cuisine, romance, and unique adventures.

This incredible resort is located on the world-renowned Maroma Beach, one of Cancun's most magnificent beaches.

At El Dorado Maroma you can enjoy an endless supply of exquisite food and beverages, relax with calming spa sessions, and learn about the intriguing local culture.
El Dorado Maroma is the ultimate hideaway, where lush tropical settings are complemented by outstanding services and facilities.

Exclusive over-the-water bungalows, award-winning cuisine, one-of-a-kind experiences, and iconic facilities; like beach butlers, full concierge service, and premium beverages are just a few of the exquisite features, services, and accommodations available. 

Guests can enjoy a variety of nightly activities as well as complimentary water sports. Kayaks and snorkeling allow you to explore the Caribbean ocean.

Nighttime is an energetic celebration of all-inclusive entertainment, such as live music, karaoke, or a comedy show.
the all-inclusive amenities are:
 All inclusive alcoholic beverages
 All inclusive meals
 Bathrobes
 In-Room Safe/ Safety Deposit Box
 Mini-bar
 Private Balcony/Terrace
 Relaxing hot tub
 Sauna
 Steam room
 Swim-up pool bar
 TV – Satellite or Cable
Included activities are:
 Aqua Aerobics
 Beach Volleyball
 Cooking Classes
 Dance Lessons
 Karaoke
 Kayaking
 Non-motorized Water Sports
 Shows/Entertainment
 Spanish/Other Language Classes
 Table Tennis
 Yoga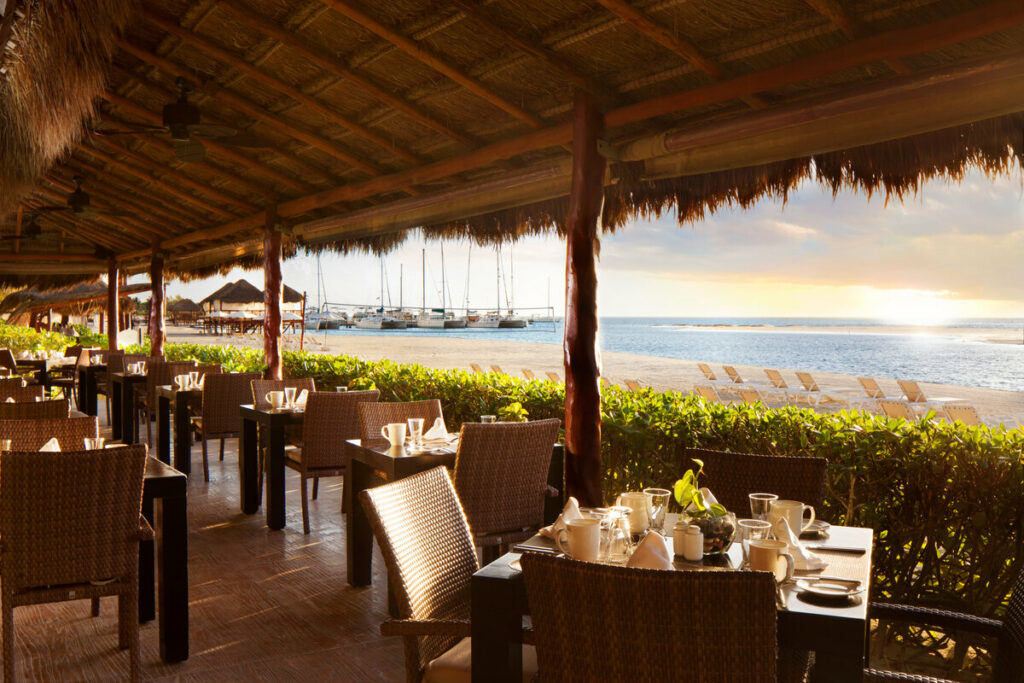 Enjoy a spectacular array of gourmet dining options ranging from casual to fine dining, local and international flavors, and a variety of bars and lounges to suit any occasion or palate, all included in your stay.
6 Restaurants including authentic local cuisine, Peruvian cuisine, Asian cuisine, fusion, and more.
4 Bars/lounges including 2 swim up bars, scenic views, and live entertainment and music.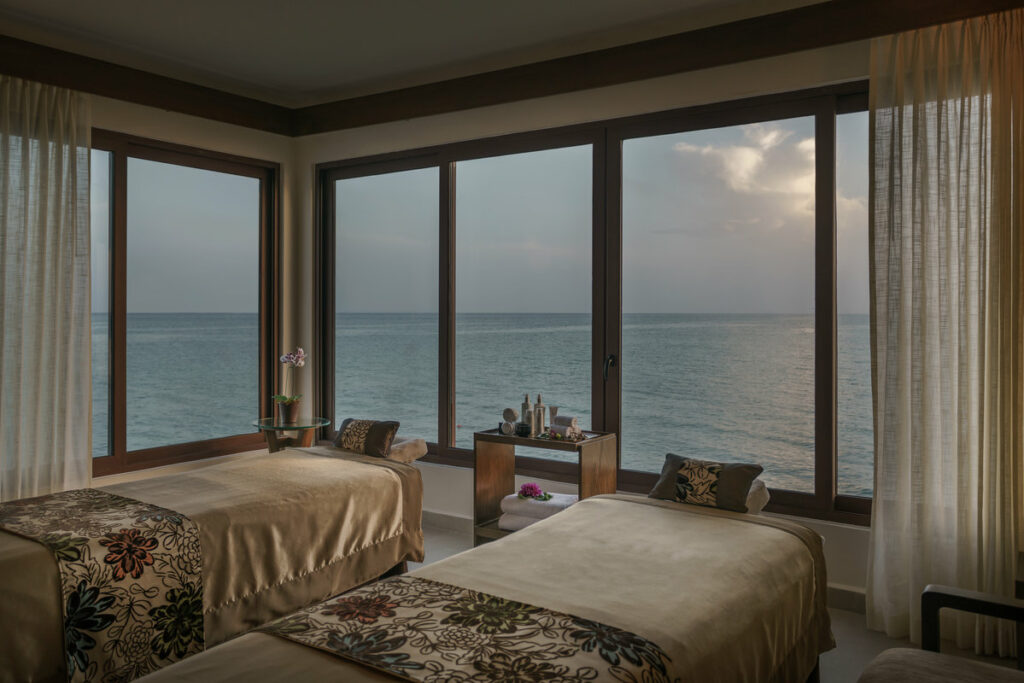 Relax and unwind at the luxurious on-site spa. The Naay Spa at Maroma, rooted in ancient Mayan principles of the elements, offers a variety of unique and indulgent treatments in a lovely tropical haven.

De-stress and revitalize the body and soul with a Beachfront Sky Massage in the Ocean Palapa. Try a holistic treatment and massage with traditional Mayan herbal remedies, invigorate your skin with a tequila-infused skin treatment, or center yourself with meditation therapy..
Hotel Policies and Advisories
Check-in Policy – 
Hotel requires a credit/debit card authorization or cash deposit upon check-in for incidentals; this will place a hold on your funds. 
Check In: 3:00 PM
Check Out: 12:00 PM
Minimum Check-In Age: 18
Pet PolicyMinimum Stay:
For contracted group weddings a minimum 3-night stay is required to participate.
Covid Testing:
As of 1/7/22 Karisma 
guarantees 24-hour antigen test results for travelers returning to the U.S. from Mexico, Jamaica or Dominican Republic.
Antigen tests are scheduled and administered onsite at the hotel at a cost of $25 per guest.

Advisories:
The Municipality of Solidaridad will be charging an Eco Tax of 30.00 Mexico Pesos (approx. $1.60 USD) per room per night. This amount is not included in your vacation price and will be collected at your hotel. These funds are being used to protect, maintain and conserve the natural beauty of the destination the area and its surroundings. This fee is subject to change at any time without notice by the hotel.
Children 18 and under are not allowed.
Please be aware that due to changing weather and ocean conditions, beach shapes and characteristics may vary.