All prices include Round Trip Shared Multi-Stop shuttle transfers from the airport to the resort and back.
Initial Room Deposit of $50 per person due by August 30, 2021.
The hotel requires a 4 night minimum stay.
All rooms offer:
Exclusive DreamBed™ with high thread count sheets
Unlimited free resort-wide WiFi for all your devices
Rain showers
Minibar
Balcony or terrace
A/C with individual thermostat and ceiling fan
In-suite Jacuzzi soaker tub
USB charging station
In room safe
Satellite television including specialty channel
24 hour room service
Coffee maker upon request
Other amenities like garment steamer, hair dryer, etc.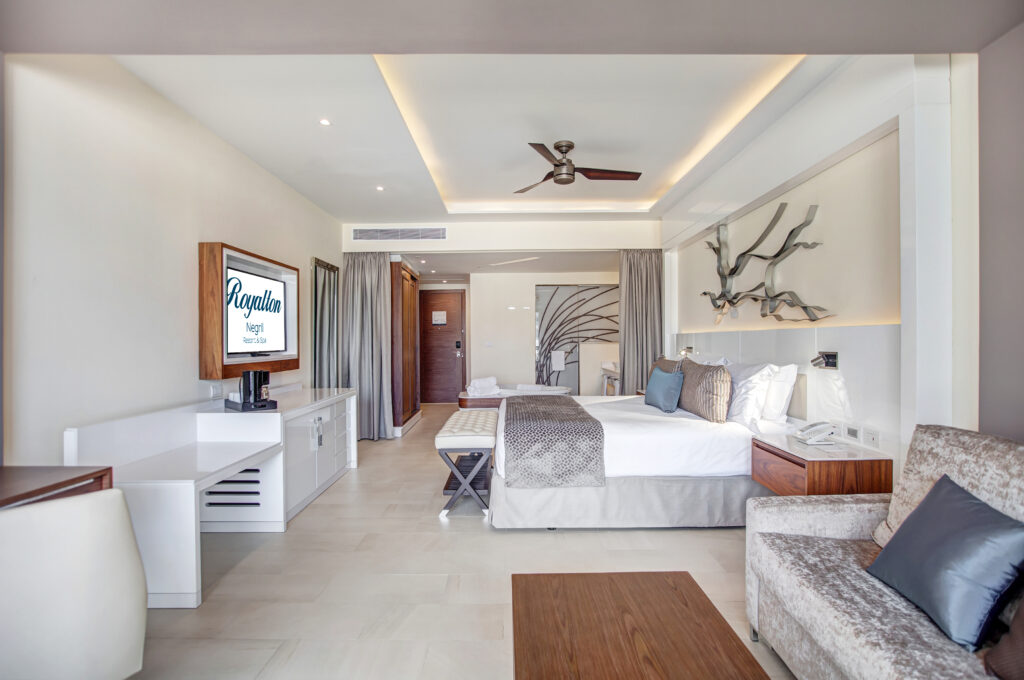 This is the perfect suite for you and your loved ones to enjoy. Wake up each day atop a premium handcrafted DreamBed™ between high thread count sheets and open your sliding glass door to the tropical paradise beyond. This room is complete with an in-suite Jacuzzi soaker tub, rain shower, sitting area with a pull-out couch and luxury vistas overlooking the mangrove.

Bedding: 1 king or 2 queen beds

Occupancy Limits: 4 total adults and children
PRICING  (Rates are Per Person based on Room Occupancy and Length of Stay)

Luxury Junior Suite Ocean View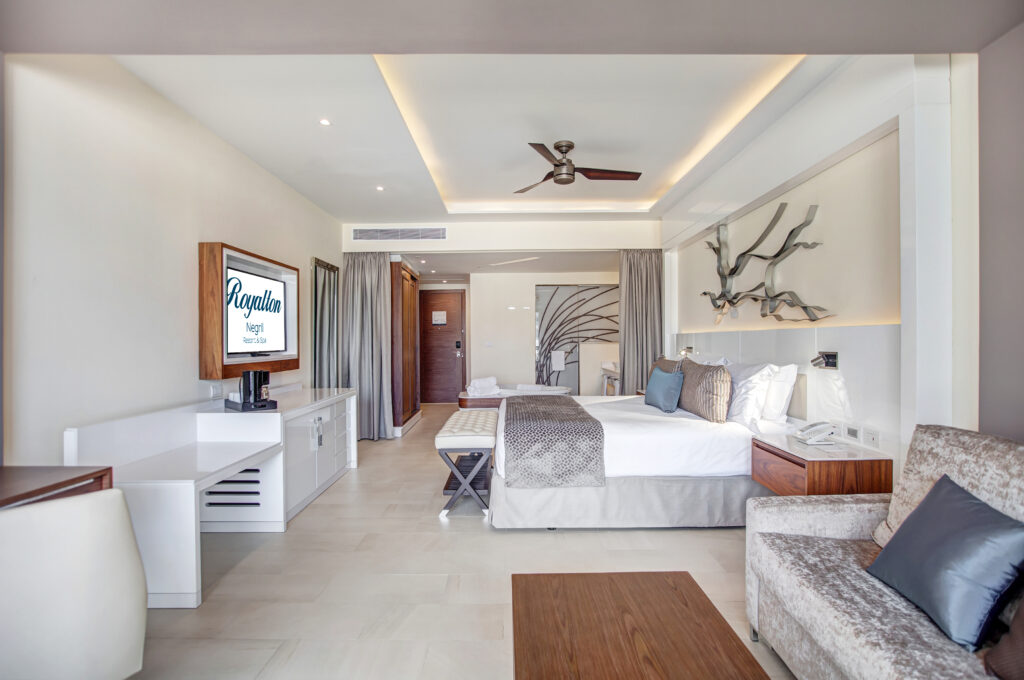 This is the perfect suite for you and your loved ones to enjoy. Wake up each day atop a premium handcrafted DreamBed™ between high thread count sheets and open your sliding glass door to the tropical paradise beyond. This room is complete with an in-suite Jacuzzi soaker tub, rain shower, sitting area with a pull-out couch and luxury vistas overlooking the ocean.

Bedding: 1 king bed or 2 queen beds

Occupancy Limits: 4 total adults and children
PRICING  (Rates are Per Person based on Room Occupancy and Length of Stay)

Luxury Junior Suite Swimout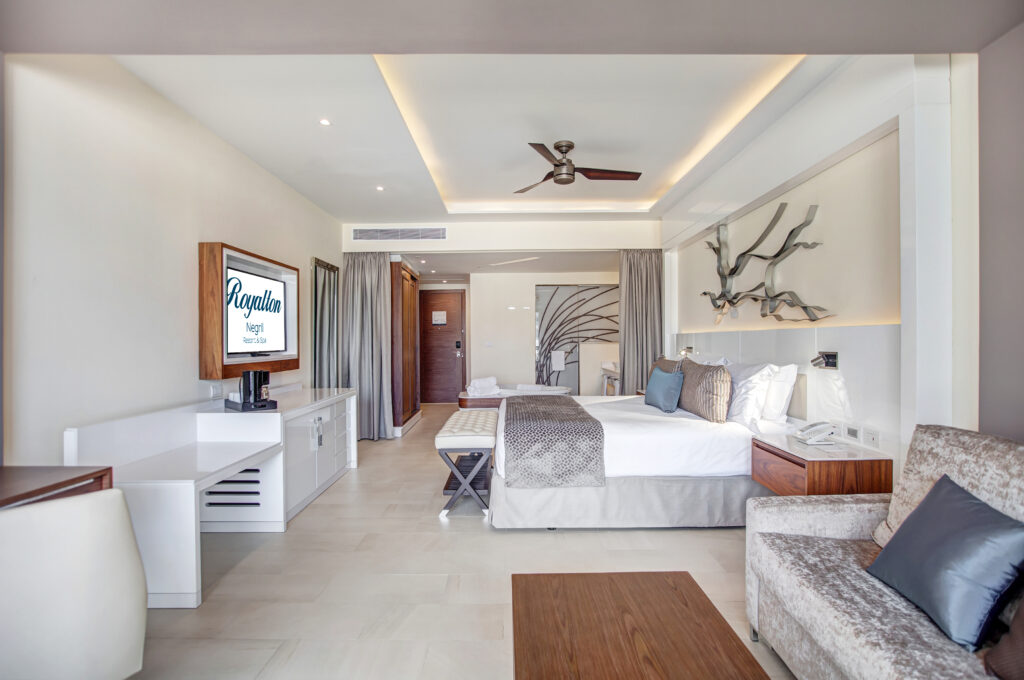 This is the perfect suite for you and your loved ones to enjoy. Wake up each day atop a premium handcrafted DreamBed™ between high thread count sheets and open your sliding glass door to the tropical paradise beyond. This room is complete with an in-suite Jacuzzi soaker tub, rain shower, sitting area with a pull-out couch and the luxury of a semi private swim out pool.

Bedding: 1 king bed or 2 queen beds

Occupancy Limits: 4 total adults and children
PRICING  (Rates are Per Person based on Room Occupancy and Length of Stay)

Diamond Club Luxury Junior Suite Ocean View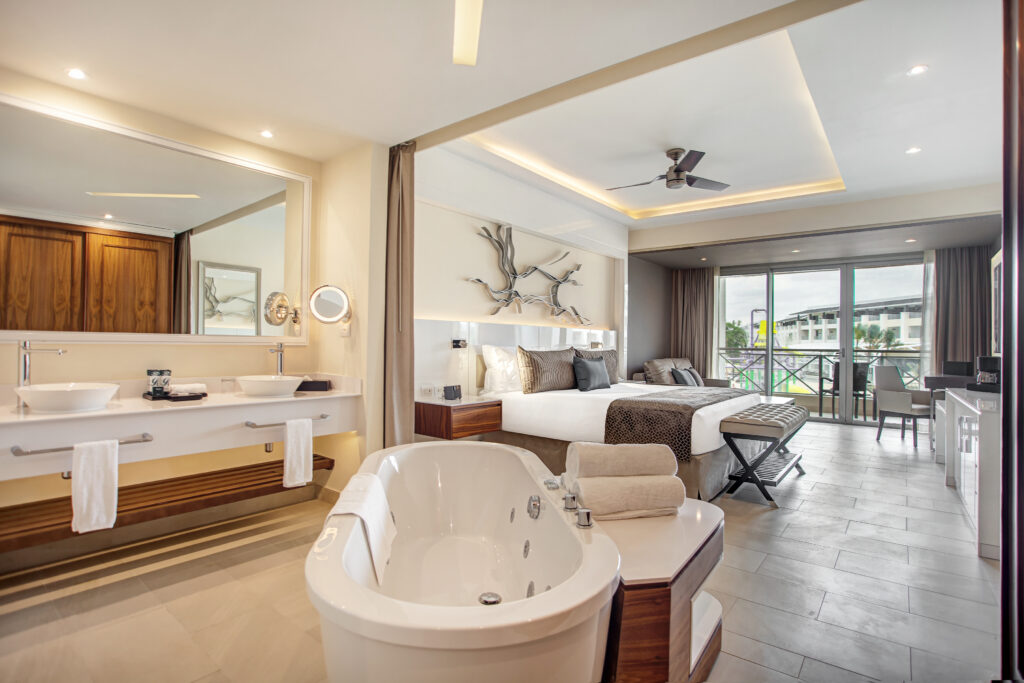 Each day, awake in the preferential Diamond Club™ area after a heavenly night's rest and push open your sliding glass door to the exclusive Diamond Club™ pool for the enjoyment of your family. This room is complete with an in-suite Jacuzzi soaker tub, sitting area with a pull-out couch and luxury vistas that overlook the ocean.

Bedding: 1 king or 2 queen beds

Occupancy: 4 total adults and children
PRICING  (Rates are Per Person based on Room Occupancy and Length of Stay)

Diamond Club Luxury Junior Suite Swim-Out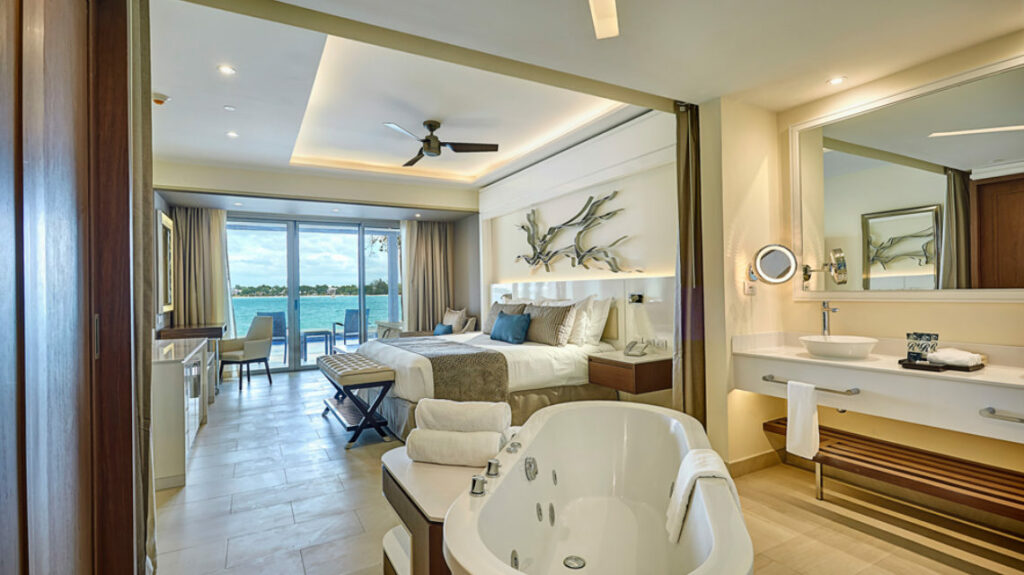 Each day, awake in the preferential Diamond Club™ area after a heavenly night's rest and push open your sliding glass door to the exclusive Diamond Club™ pool for the enjoyment of your family. This room is complete with an in-suite Jacuzzi soaker tub, sitting area with a pull-out couch and luxurious semi-private swim out pool. 

Bedding: 1 king or 2 queen beds

Occupancy Limits: 4 total adults and children
PRICING  (Rates are Per Person based on Room Occupancy and Length of Stay)