Top Destination Wedding Locations: Negril Jamaica
Jamaica is without question one of the top destination wedding locales in the world. This tropical emerald island is teeming incredible beaches, lively entertainment, and a cultural hospitality unique to this area of the Caribbean.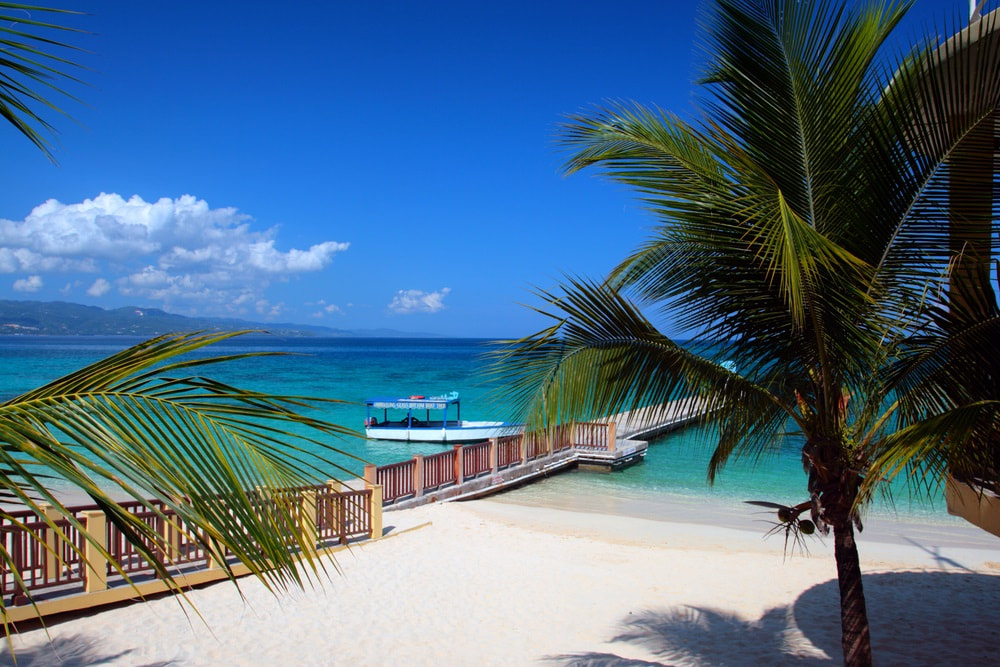 With so much to explore and luxurious, all-inclusive resorts in which to unwind, it is no surprise that Jamaica is awesome, and Negril is the place to be to say your vows. Located on the western tip of Jamaica, Negril is far from the bustle of Kingston, and perfect for getting away from it all with your loved one.
Why Get Married in Negril?
Planning the perfect wedding here offers a cultural experience not found in other areas of the Caribbean. Its British, African, and Taino influences, lush vegetation, and distinctive Jamaican music, create a symphony of culture and flavors that can make your wedding and honeymoon truly special. And let's face it, there's just something about walking hand-in-hand along a Jamaican beach with reggae music in the background that brings out the most romantic of sentiments.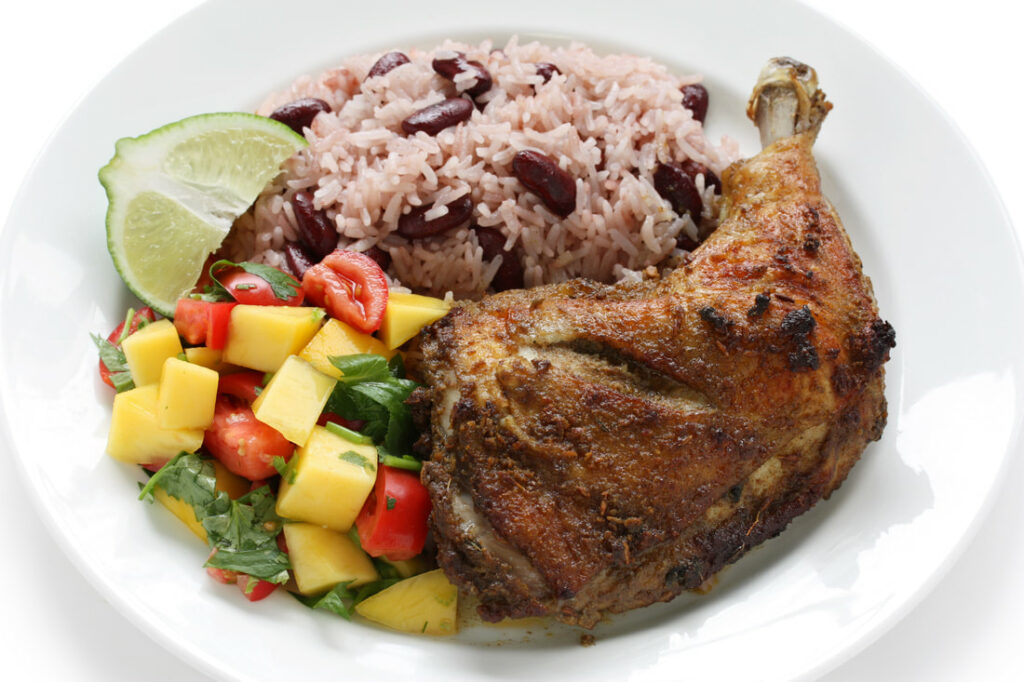 Sample all of the delectable foods with an international flair – whether it is Jamaican cuisine, African, Mediterranean, Italian, or a fusion of each – it is there for you to discover. You and your guests will be treated to amazing meals each time you sit down to eat. Then when the adventure bug strikes, indulge in activities such as ziplining, snorkeling, diving, sailing, ATV adventures and waterfall tours, to name a few.
​​
Choosing your destination wedding location in Negril promises not only a selection of world-class, all-inclusive resorts, but the famous Jamaican hospitality you will come to love as much as we do. And travel from the east coast to Jamaica is a piece of cake – about three hours by plane. Just remember to bring your passport! There's no fussing over the décor for your wedding, because the breathtaking backdrop of tropical trees, rain forests and mountains almost beg you to keep your wedding set-up simple. But of course, with so many 'pick and choose' destination wedding packages available, all decoration decisions are up to you!
Choosing the Perfect Destination Wedding Resort
In Jamaica, there is perfect weather all year round. But for destination weddings, many choose to avoid the wet season and plan around the months of May, June, and September through November. Yet others weather the risk in order to gain the savings that can often be found during September and October at the height of hurricane season. But whenever you choose to go, we've rounded up the top all-inclusive resorts that could be the perfect backdrop to your destination wedding in Jamaica.
The Royalton Negril
​Royalton Negril overlooks stunning emerald waters.  A wedding here will give any couple goosebumps when they discover what this resort has to offer.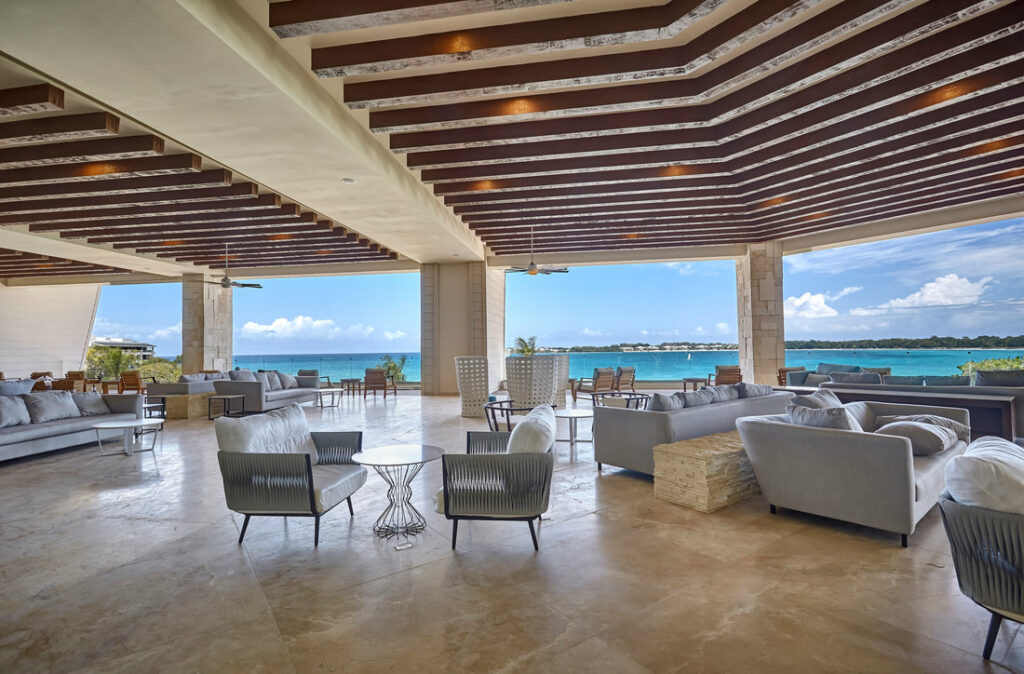 In addition to Jamaica's unique culture and awe-inspiring views there are several locations throughout the Royalton Negril resort where couples can tie the knot, such as Ocean Point, Ocean Pier, the Beach or the stylish Sky Wedding overlooking the water.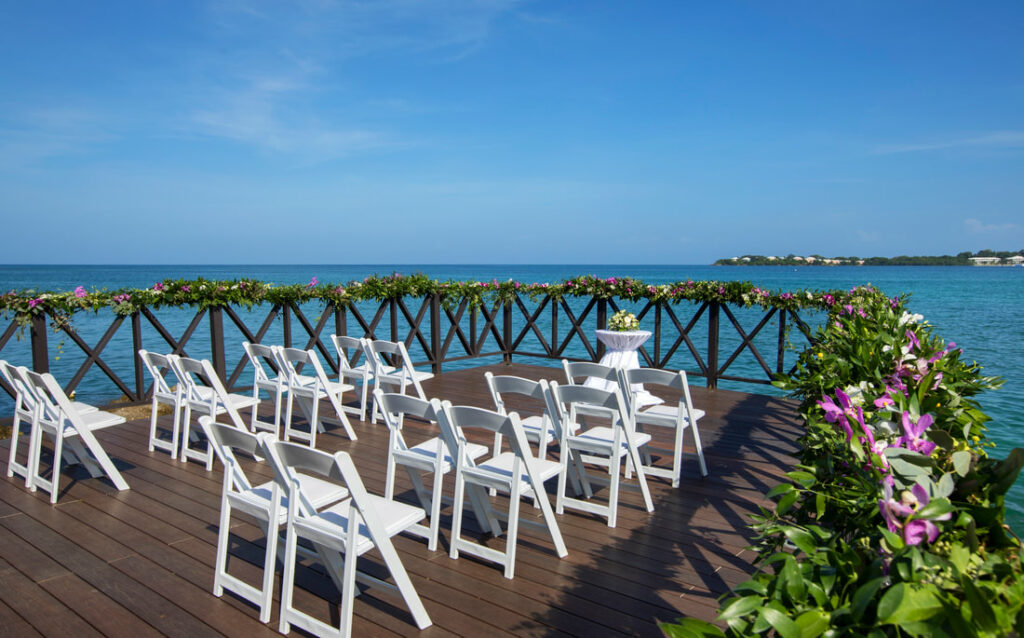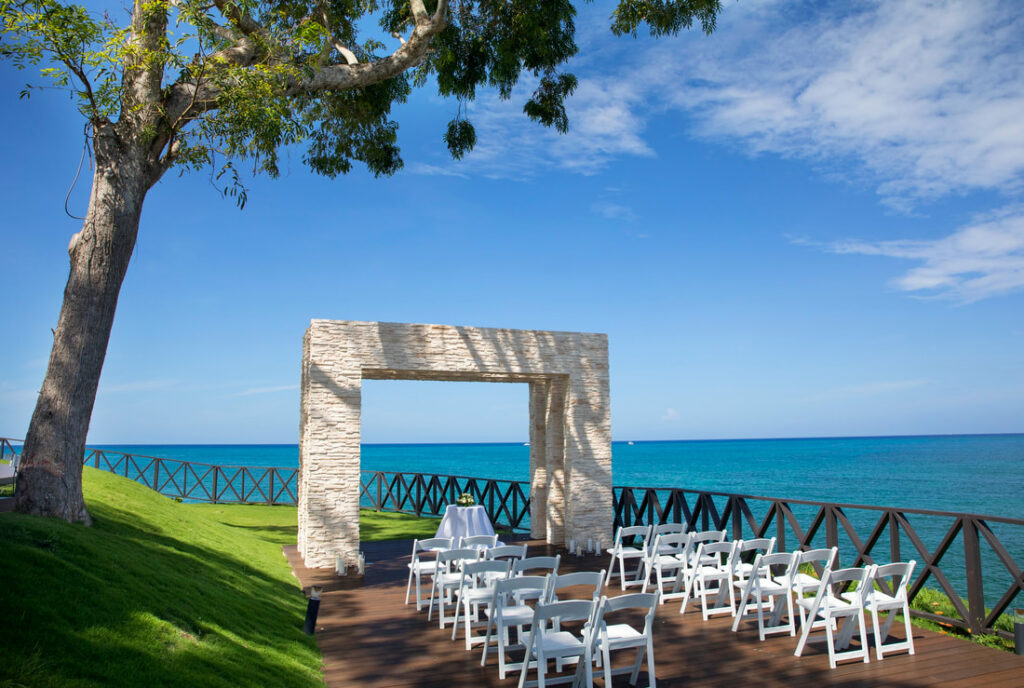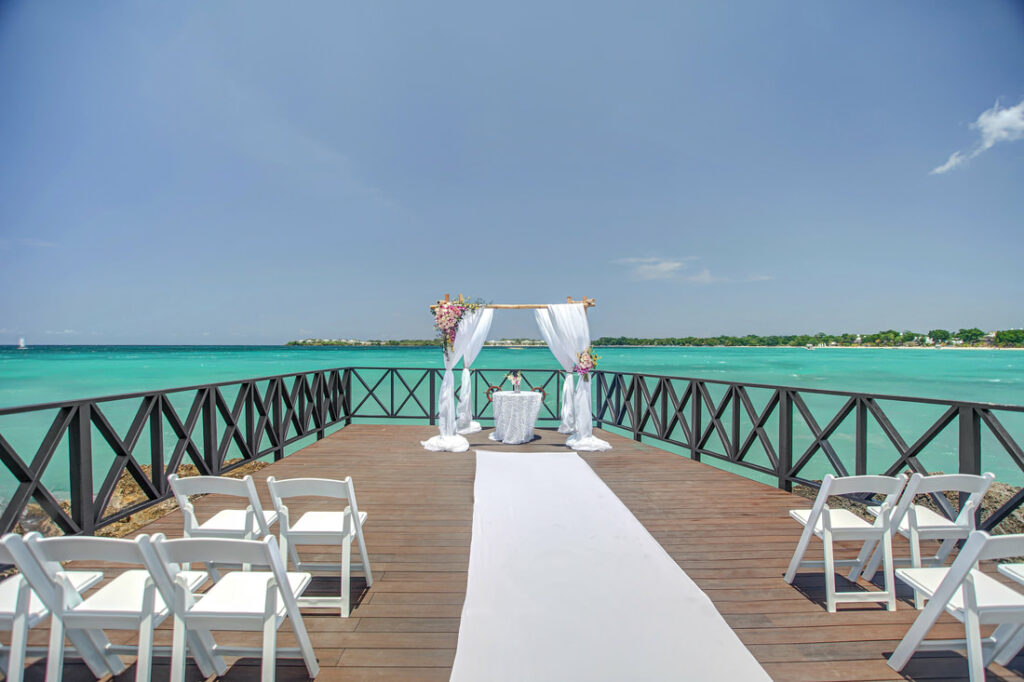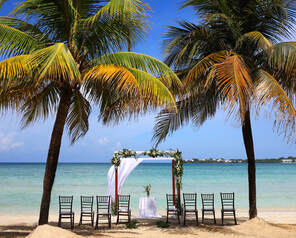 The couple's wedding accommodations at Royalton Negril might include a luxury junior suite jacuzzi tub, or the presidential one- or two-bedroom suite with separate seating area. And there's more. These suites come with a terrace featuring magnificent ocean views or swim out pool. Or many couples opt for the exclusive Diamond Club area of the resort with its own private pool.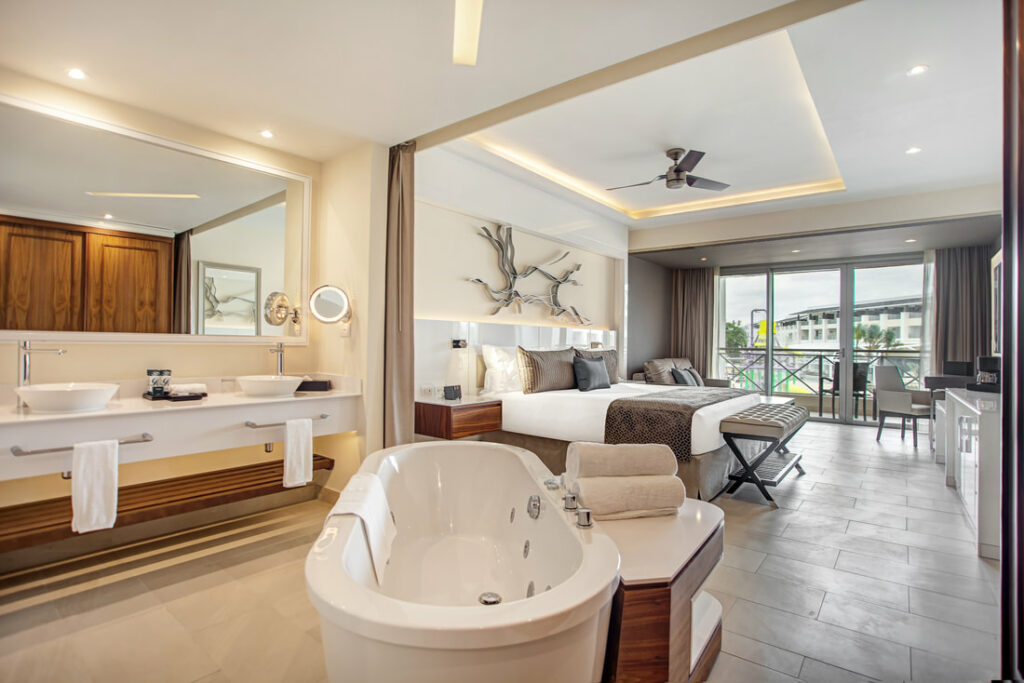 AZUL BEACH RESORT NEGRIL
Azul Beach Resort Sensatori Jamaica is situated on one of the 'Top Beaches of the World'. Located on the famed Seven Mile Beach, this resort's style is chic luxury meets pristine paradise. Dramatic sunsets and tranquil waters beckon couples to start their lives together here.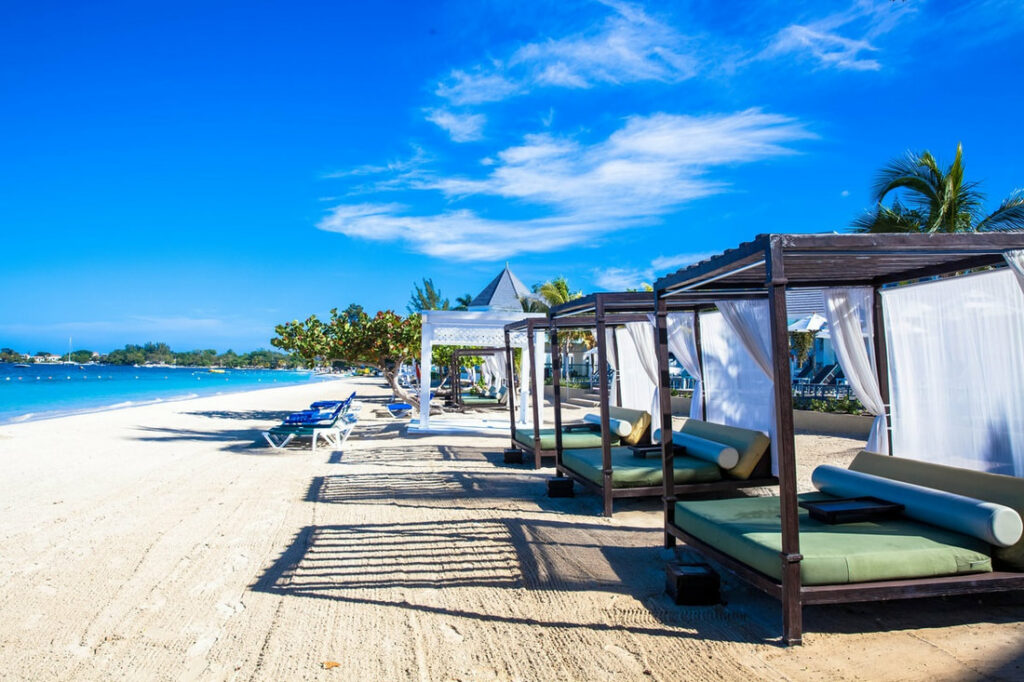 With separate adults-only and family areas this all inclusive resort  ensures the perfect experience for all. Exchange vows with a turquoise view in an idyllic setting, whether it is their chic rooftop terrace, or on the beach with the sand between your toes. Then after saying "I do", celebrate with a romantic massage at Vassa Spa and a lavish dinner at Le Chique, before cuddling up in your swim-up suite with lavish amenities.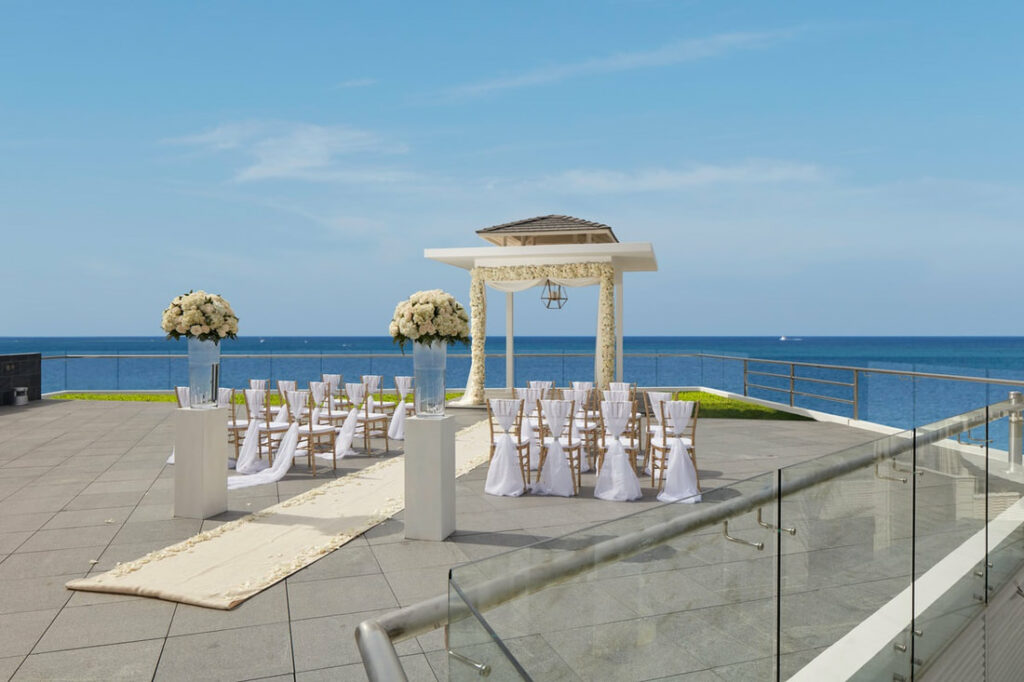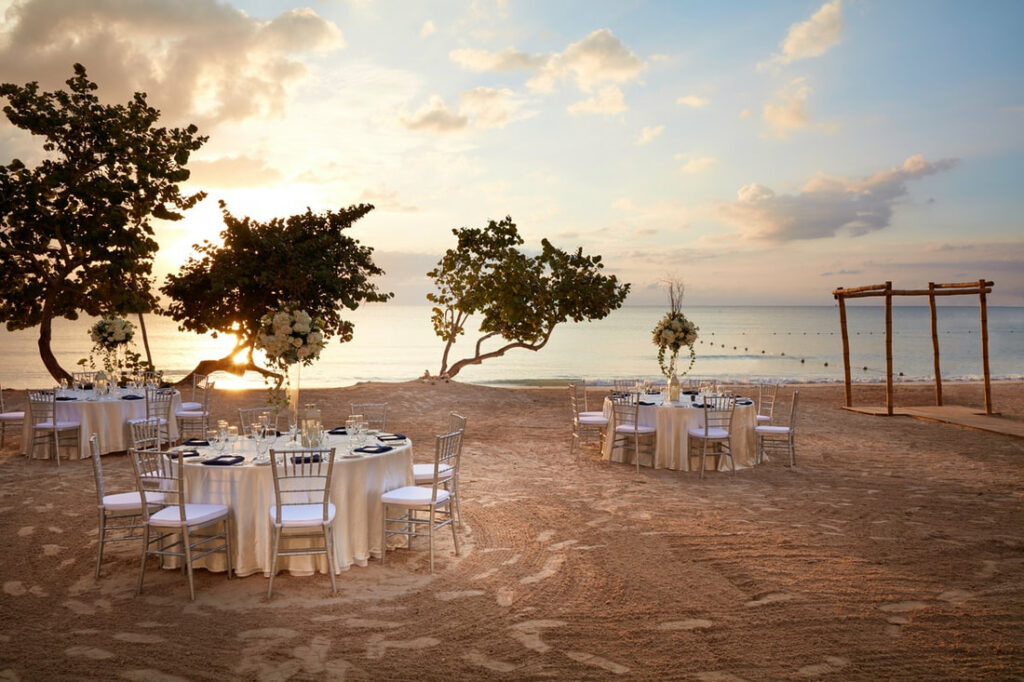 Or choose the presidential suite, with a jetted tub and lazy river right outside your terrace! And of course many couples choose the honeymoon suite with its wrap-around terrace and romantic amenities. Larger families attending the wedding can splurge on the chairman's suite.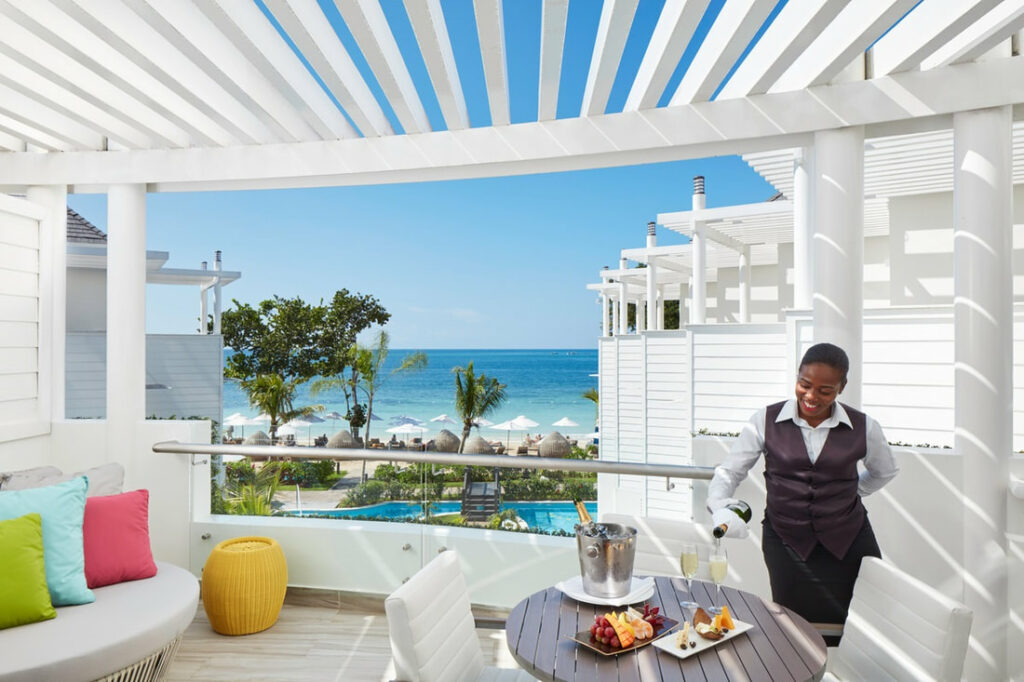 ​
SANDALS RESORT NEGRIL
​Sandals Negril is synonymous with the indulgent, all-inclusive resort lifestyle. Blissful romance combines with a laid-back cool that epitomizes a free-spirited personality, and has given Negril the reputation of an exotic playground.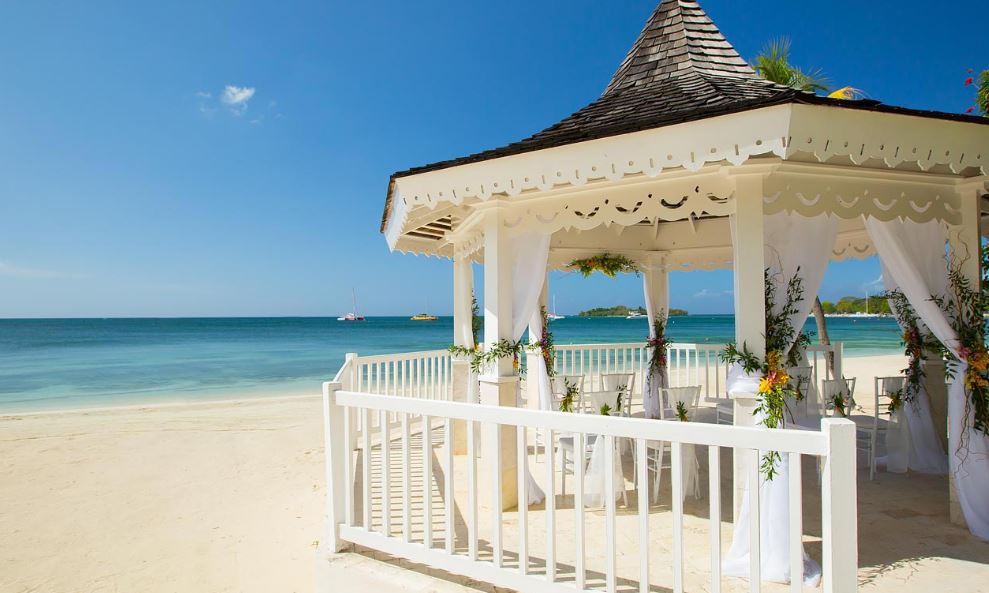 Sandals provides beautiful backdrops for your wedding venue, such as the over-the-water chapel, over-the-water gazebo, sky terrace, intimate chapel, oceanfront gazebo, a garden setting, or right on the beach.  Many of these venues give you the same idyllic coastal view as a beach wedding.Your honeymoon accommodations ensure uninterrupted privacy in a Millionaire Honeymoon One Bedroom Butler Suite with private pool, a swim-up lagoon beachfront suite, a Honeymoon Beachfront Two-story Villa with tranquility soaking tub, or splurge on the Honeymoon Penthouse Butler Suite.
​At Sandals you can frolic on the pure white sands of Seven Mile Beach, where decadence meets you around every corner. And getting married here is just the icing on the cake, so to speak! This is Jamaica's hippest adult-only resort, and incidentally the greenest resort – set amidst lush landscapes – perfect for expressing your love for each other. 
Your destination wedding travel agent will plan your incredible wedding in Negril, Jamaica. So, leave the stress and worry of planning your most important day to the experts, so you can concentrate on simply getting ready for the destination wedding and honeymoon of a lifetime. Contact us to start making your dream wedding in Negril, Jamaica a reality!