What Is a Destination Wedding?
A destination wedding is a type of wedding ceremony that takes place in a location that is not the couple's hometown or city. Instead, the couple and their guests travel to a different city, state, or country to exchange their vows and celebrate their nuptials. Destination weddings have become increasingly popular over the years, and many couples choose to have their wedding in an exotic or unique location. This can make your special day even more memorable. The photography company-Flashbulb Memories noted that destination weddings are a top trend for 2023.

One of the biggest draws of a destination wedding is the opportunity to combine the wedding ceremony with a vacation. Many couples choose to have their wedding at a beach resort, a mountain cabin, or a vineyard, so that they can enjoy a relaxing and fun-filled getaway with their friends and family. Destination weddings often last for several days or even a week. This gives the couple and their guests plenty of time to explore the local area, take part in activities like hiking or swimming, or simply relax and soak up the sun.
Destination weddings can also be more intimate and personal than traditional weddings. By limiting the guest list to close family and friends who are willing to travel, couples can create a more intimate and exclusive atmosphere for their wedding. Additionally, destination weddings often allow couples to personalize their wedding in unique ways, such as incorporating local customs, foods, and decorations into the ceremony and reception.
However, planning a destination wedding could potentially be more complicated than planning a traditional wedding. A longer planning timeline is necessary to give guests time to request vacation time with their employers and make other necessary arrangements. Couples may need to obtain special permits or licenses to get married in a foreign country or at a specific location. This might be time-consuming without the proper background and expertise. In addition, the logistics of coordinating travel and accommodations for guests can be challenging. But couples who hire a certified destination wedding travel advisor with location expertise to help them organize the event, typically find the process to be a breeze.
Here are some of the key factors to consider when planning a destination wedding:
The location of the wedding is perhaps the most important decision that couples will make when planning a destination wedding. Popular destinations for destination weddings include Hawaii, the Caribbean, Europe, and Mexico. Couples should consider factors such as the climate, the cost of travel, the availability of accommodations, and the accessibility of the location when choosing a wedding destination.
Destination weddings can be more expensive than traditional weddings, so couples should carefully consider their budget when planning the event. In addition to the cost of travel and accommodations for themselves and their guests, couples may need to pay for venue rental, catering, decorations, and other wedding expenses. It is important to set a realistic budget and to work with a destination wedding travel agent to ensure that costs are kept under control.
Attendance for a destination wedding can sometimes be smaller than for a traditional wedding. This is because not all invited guests may be willing or able to travel to the wedding location. This smaller attendance could actually provide some cost savings for the couple. Couples should consider the preferences and needs of their guests when deciding on a destination and should communicate clearly with guests about the travel and accommodation arrangements.
Coordinating travel and accommodations for guests can be a complex and time-consuming process. Couples should work with a certified destination wedding travel agent to help them arrange flights, hotels, transportation, and other logistics for their guests. It is also important to plan for any special needs or requests that guests may have, such as dietary restrictions or mobility issues.
Getting married in a foreign country or at a specific location may require special permits or licenses. Couples should research the legal requirements for their chosen location and ensure that they have all necessary documentation and permits before the wedding.
Cultural and Environmental Impact
When planning a destination wedding, it is important to also consider the cultural and environmental impact of the event. Couples should be respectful of the local customs and traditions of their chosen location, and should strive to minimize the environmental impact of the wedding. This can include choosing eco-friendly accommodations, choosing local plants and flowers for the floral decorations, minimizing waste, and supporting local businesses and vendors.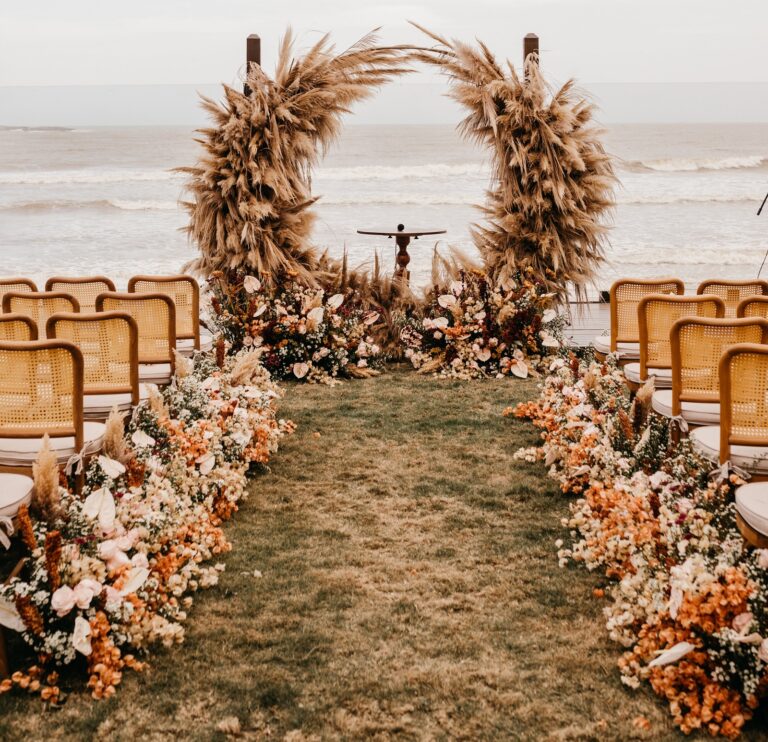 In conclusion, a destination wedding is a unique and memorable way to celebrate a couple's special day. While it requires a longer timeline for planning than a traditional wedding, a destination wedding can provide a once-in-a-lifetime experience for the couple and their guests. A destination wedding is a wonderful way to create lasting memories and celebrate the start of a couple's new life together.
By carefully considering the location, budget, guest needs, logistics, environmental impact and legal requirements, couples can plan a destination wedding that is both beautiful and stress-free. With careful expert planning and attention to detail, couples can create a beautiful and unforgettable wedding experience that their guests will cherish for years to come. Working with a destination wedding travel advisor can help to make the planning process smoother and more efficient. This gives the couple time to focus on enjoying their special day.