Top 5 Makeup Tips for Beach Brides
Those who know me well know that I rarely wear makeup. Once a year I might put on a little lipstick. And every couple of years maybe a little highlighter and mascara too. But, a wedding is a once in a lifetime event. So, even for those of you, who like me, don't often wear makeup, it's ok to pull out all of the stops! And, how you do this, is different for indoor weddings versus beach weddings. If you're planning a beach wedding, it's important to keep in mind the natural, sun-kissed environment when choosing your makeup look. Here are our top 5 makeup tips for beach brides: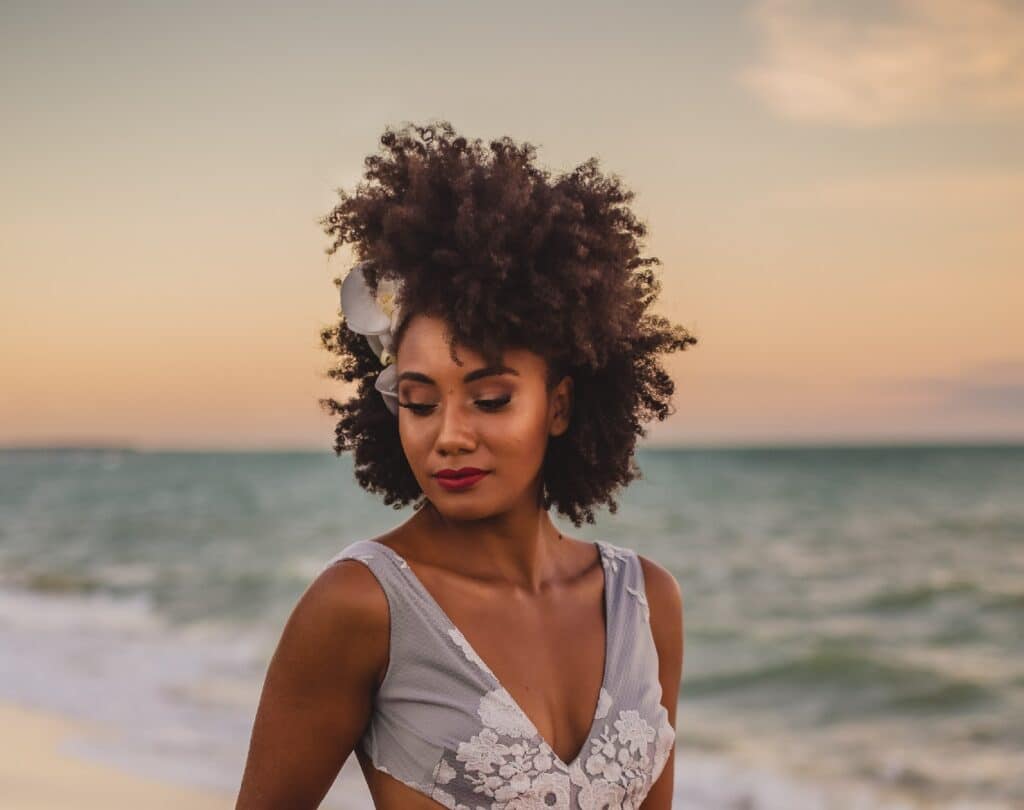 The beach is a beautiful natural setting and the last thing you want is to look overly made up or heavy. It's best to choose light, breathable products that won't feel heavy or caked on in the heat. Before you do anything apply sunblock. And, that goes for EVERYONE!
Then opt for a lightweight, sheer foundation or tinted moisturizer to even out your skin tone and let your natural beauty shine through. Use a cream blush or a bronzer if you have fairer skin to add a subtle flush of color to your cheeks. For my brown skin brides peach is an essential undertone if you want to maintain a natural look.
With the natural look you can go for subtly defined eyes or opt to keep the focus on your lashes with a lengthening or volumizing mascara, or fluffy false lashes.
Depending on where you are on the skin color spectrum you can finish off with a light, natural-looking lip color or balm or go for flushed lips as pictured above using pink matte lipstick shades or nude or red lip stains.
The beach can be a challenging environment for makeup because of the potential for heat, humidity, and water. Using waterproof products will ensure that your makeup stays in place and doesn't smudge or run. Look for waterproof mascara, eyeliner, and even eyeshadow to keep your eye makeup looking perfect. A long-wearing foundation and setting spray will help your makeup stay in place throughout the day.
Embrace Highlighter or Bronzer
The beach is all about sun-kissed skin, so for my fair skinned ladies, you shouldn't be afraid to add some warmth and glow to your face with bronzer and highlighter. Apply bronzer to the areas where the sun would naturally hit your face, such as your forehead, cheeks, and nose, to create a natural-looking contour. Apply highlighter to the high points of your face, such as your cheekbones, brow bone, and cupid's bow, to add some extra glow. Just be sure to blend well to avoid any harsh lines.
Fascinating highlights are recommend for my ebony toned beauties as well. 
Since the beach can be windy and you may be kissing your partner or sipping drinks, it's best to keep your lips simple with a tinted lip balm or a nude lipstick. This will give you a natural look while also keeping your lips hydrated. You can also use a lip stain to add some long-lasting color to your lips without worrying about smudging.
Your hairstyle can also play a role in your makeup look. If you're planning on wearing your hair down or in loose waves, consider a lighter eye makeup look to avoid overpowering your features. But before you decide up or down definitely consult a destination specialist about the likelihood of strong winds during your wedding ceremony.
If you're opting for an updo like a curly afro or plain or braided bun, you can be a bit more dramatic with your eye makeup. You should also take into account any hair accessories you'll be wearing, such as a flower crown or a hair vine, and choose makeup that complements them.
To summarize, the key to beach wedding makeup is to keep it natural, light, and waterproof. You want to enhance your natural beauty and look like the best version of yourself, while also being practical and prepared for the beach environment you've selected. And don't forget the sunblock!