The World's Top Luxury Trains

"If a train is large and comfortable you don't even need a destination"
—Paul Theroux

If you find air travel to be a less than pleasurable experience, you may want to look into traveling on one of the world's top luxury trains. There's something quite magical about watching some of the world's most stunning scenery slowly unfold as you observe from a comfortable window seat with your favorite book in hand and an exquisite glass of wine. Champagne and piano bars, spacious sleeper suites, and lavish dinners (in some cases with food sourced along the route) will transport you back to the golden age of luxury train journeys.
Below we discuss just a few of the world's top luxury trains.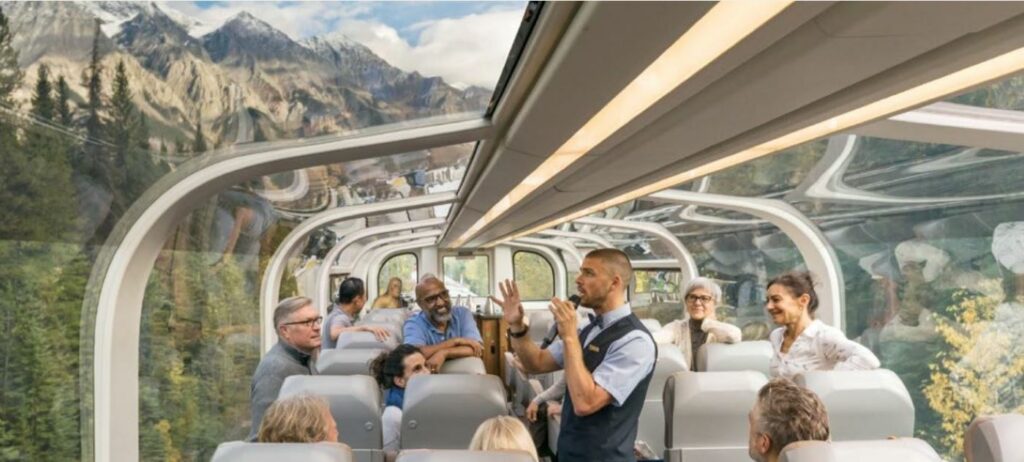 Close to home in Canada's Rockies, you'll find the Rocky Mountaineer. A journey on this luxury rail line offers a spectacular backdrop of fresh-water lakes, twisting rivers and snowy mountains. The train's interior is designed for comfort, with complimentary snacks and drinks available to all passengers. We recommend an upgrade to the Gold Leaf Car for a pleasant journey with unobstructed views of wildlife and beautiful waterfalls.
The Belmond Andean Explorer
As if you needed another reason to visit beautiful, mysterious Peru, the Belmond Andean Explorer should definitely be added to the list. Gliding along one of the highest train routes in the world you can explore the stunning natural wonders and vibrant cities of Peru. Designed by Inge Moore from The Gallery in London, The Belmond Andean Explorer is a modern dream. With a stunning royal blue and white exterior, this train's interior is unimaginably luxurious. You'll find spacious private cabins with exquisite furniture including oversized headboards.
The Venice Simplon-Orient-Express
Not only does this charming train allow you to journey to France, Italy, and Turkey,  with its dreamy 1920's decor you may feel like you're on a journey into the past. From Lalique glass inlays and black lacquer paneled dining cars, to white-gloved stewards dressed in blue and gold livery you'll enjoy unrivaled vintage luxury aboard the Venice Simplon-Orient-Express. Regardless of the Route you choose from London to Venice or Paris to Istanbul, you'll enjoy exploring some of the continent's most vibrant cultural centers.
If India is on your wanderlist, then you may want to consider the Maharajas' Express might. This luxury train with a golden interior is reminiscent of a fairytale. You'll be pampered with such features as fine dining and private butlers, as you discover the extravagant places on this train's itinerary. From magnificent palaces to lively markets, this luxury train allows you to explore all of the best parts of India while traveling in style and comfort.
On the other side of the world, the Ghan lets you travel in luxury while bridging the gap between some of Australia's most iconic locations. Australia is quite well known for its various natural wonders, from its shimmering Darwin beaches to the Great Barrier Reef. Before The Ghan came along it was quite difficult to connect Australia's marvels since many of these places are thousands of miles apart. With all-inclusive gourmet dining and upgradeable private cabins, this luxury train now makes it possible for travelers to reach and explore Australia's disparate must-see sites in a comfort unmatched by most airline journeys.
Given the diverse assortment of trains available to explore the world, the choices can seem overwhelming to some. Although many travelers view train travel solely as a means of getting to their destination, the train can be an essential part of the journey. Whether you are looking for something vintage or something slightly more modern, we can help you to discover some of the top luxury trains around the world.
You deserve to take a journey that fits your unique tastes and preferences. Contact an Enlighten Excursions travel advisor today to discover which luxury rail line will help you explore your favorite wanderlist destination and create memories that last a lifetime.