Luxury Villas in Santorini
Luxury villas in Santorini with their private pools and stunning volcano views, exemplify the ultimate romantic vacation experience. Why Santorini? There are so many amazing places in this world to see, that normally, when I'm vacationing, I rarely double back and visit one city or Island twice. I have now vacationed, on three separate occasions, on the Greek Island of Santorini. 
Perched on the rim of an active volcano, Santorini is just perfect for romantic getaways! It truly feels like a little slice of heaven on earth. 
This article highlights luxury villas in various towns around the island of Santorini's, including Santorini's capital–the popular town of Fira. Even though Fira can be rife with tourists at times, it never spoils the experience for me. You still feel compelled to linger in the restaurants or cafes and watch the ships come into the harbor. I love Fira's vibrancy and welcoming aura. That's why the first luxury villa in Santorini that I'm highlighting—Archipelago House– is located in lovely Fira.

The Archipelago house is located in a historic area of Fira. It sits atop the highest point of the island and has a breathtaking view of the famous caldera and the Santorini volcano.

This unique villa, built in the neoclassical style, combines luxury, privacy, and authenticity. Its splendid architecture boasts thick walls, arches, domes, and vaulted roofs. The interior design is modern and elegant with a few antique pieces. Art buffs will appreciate the collection of authentic gravures depicting old maps and various other aspects of Santorini. In addition, there are a number of contemporary paintings in the collection.

Between the 3 bedrooms in the main house and the bedroom in the guest studio this villa comfortably sleeps at least 8 people. There are 2 bedrooms with queen beds and ensuite bathrooms on the ground floor. The master bedroom has vaulted ceilings and a proper queen bed, while the second bedroom has two twins configured as a queen. The third bedroom is upstairs and has a great view of the volcano. This bedroom also has two twins that can be configured as a queen bed. While we love the vaulted ceiling in the master bedroom and the cross-vaulted high ceilings in the living room and the dining room, we are even more impressed by the views and the outdoor spaces at this villa.
The comfortably chic living room boasts a marble fireplace and a unique view of the Santorini Caldera. The living room sits adjacent to the lovely dining area that has a gold-plated mirror and an original Venetian chandelier that overlooks a medieval Spanish-style wooden dining set.
 
Another amazing view will captivate you as soon as you step outside and into what feels like a painting. Plunge into the heated outdoor jacuzzi and enjoy the breathtaking scenery. Take in the blue sky, sunshine, hibiscus, oleander and bougainvillea, while you enjoy the outdoor amenities at this villa. soak in the sun on the terrace relaxing in teak chaises-lounge, built-in benches or the cushy seating around wooden tables. Or retreat to the shade beneath pergolas or sun umbrellas. Dine al fresco around the polished cement table that seats up to 10 guests
The pictures you've seen of Santorini featuring beautiful white- washed blue domed churches were most likely taken in the village of Oia. Like Fira, Oia is situated high on a top of a cliff overlooking the sea, but with cave houses and restaurants built into the cliff's edge.
Located in this picturesque village, Villa Mousai offers astonishing insta worthy views of the caldera and the Aegean Sea. It is one of the most romantic luxury villas in Santorini. Just imagine being greeted with an inviting fruit basket and a welcome bottle of local wine not to mention that amazing view!
With vaulted ceilings and stylish furniture, this two-bedroom villa is beautifully decorated with modern amenities. There's a sitting area, a fully equipped kitchenette with a mini oven, one double bedroom with an en-suite bathroom, a cozy loft, and another bathroom.
The spacious outdoor terrace with its unique panoramic views features a private jacuzzi, a sun lounge area and a dining table with seating for four guests forming an idyllic setting for enjoying the ultimate sunset experience.
Villa Mousai claims a privileged position in the village of Oia. A short walk takes you to nearby restaurants and shops. Strolling the village you will find several small art galleries and numerous restored churches. Most people flock to Oia to watch the spectacular sunsets light up the white-washed houses. The breathtaking surroundings make it an ideal choice for couples who want a romantic vacation in a fairytale setting.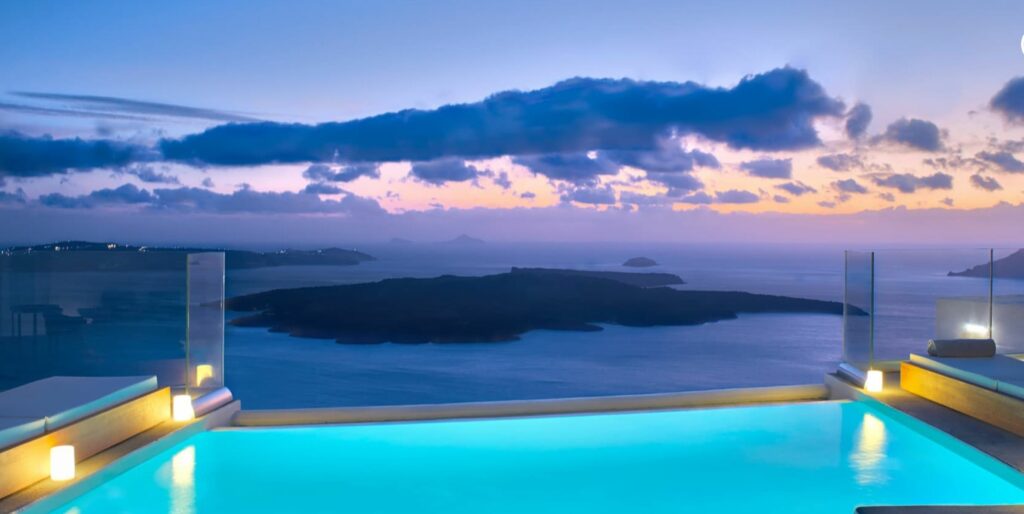 From its privileged position in the enchanting village of Firostefani, Villa Grotte Blanche is surrounded by the stunning beauty of Santorini's unique landscapes. This villa, with phenomenal views of the impressive Santorini volcano and the endless blue waters of the Aegean Sea, is ideal for couples traveling together. The villa is made up of two cave-style apartment suites that can accommodate 4 guests. Each suite also has a sofa bed that can accommodate one more guest if needed.
Neutral palettes, whitewashed arches, and simplicity define the stylish cave interiors, where traditional Greek Cycladic architecture is enhanced by touches of modern luxury and comfort.
Each cave style suite features a living and dining area, a fully equipped kitchenette, a double bedroom with en-suite bathroom. There is also an outdoor dining area on the charming terrace. The apartments share a lovely infinity edge pool and a sun lounge area perfect for relaxing and unwinding during the hot summer days.
Villa Grotte Blanche is perfect for couples who want a peaceful relaxing atmosphere not too far from Fira. And the beautifully radiant sunset views from the villa make it an ideal retreat for a romantic gateway.
Perched magnificently on the Caldera cliffs in a tranquil and secluded spot of the picturesque village of Imerovigli, the aptly named Villa Bliss combines breathtaking landscape views with the luxury of complete serenity and easy access to Santorini's heart.
Each of the adjoining suites in this 3-suite complex has an outdoor terrace with a private plunge pool. The interior is tastefully decorated with a mix of modern minimalist architecture with touches of traditional Greek Cycladic architecture. Guests here enjoy magnificent uninterrupted views of the volcano, Skaros Rock and the extraordinary sunset.
Villa Bliss has 7 bedrooms which comfortably sleeps 14 people. It's ideal for a micro wedding, a group of couples traveling together, a milestone birthday celebration or a small reunion of family or friends. Complimentary villa services include a shared arrival transfer, a welcome basket with Greek delicacies and local Greek wine, daily housekeeping service, and daily breakfast in the privacy of your villa.
To book one of these extraordinary luxury villas in Santorini or to find another villa that best suits your needs reach out to a Luxury Travel advisor at Enlighten Excursions travel. Our advisors can design your vacation experience down to the finest details, from destination and villa selection to ferries, flights and transfers. 
And don't forget about the excursions. From theatre, people watching and hiking to wine tasting, sailing and exploring ancient ruins we can arrange an array of activities on this amazing island.