Author: Hali Wallach
A little bit about me to give you a perspective of where these reviews are coming from:

Proud Native New Yorker – I was born and raised in Brooklyn, currently living in Manhattan…the COOLEST city in the world. New York is a walking city and I stay extremely active on a daily basis between catching the train, walking home or taking a spin class at the gym.

Work in Corporate America – I try hard to find a nice balance between the uptight world of Corporate America and my Brooklyn roots

Avid Traveler – Show me what you got world! Always interested in seeing how the rest of the world lives. I've already been to 32 countries (including the 3 listed below) and will finish out 2107 with (minimally) another 2. When NYC is your benchmark, this is quiet the feat.

One must have when I travel – Breakfast must be included with hotel. This way, I can fill up (and sometimes stock up) on breakfast in the morning and go all day until dinner. This also helps lower my daily spending on meals. (*Breakfast was really good in all 4 cities)

One nice to have when I travel – A guided tour of the city to get my bearings and see what the city has to offer and then decide on what I want to go and see more in depth.

​My must have on this trip – Aside from breakfast at the hotel…Pirogies and Blintzes in Poland and Schnitzel in Vienna.Write something about yourself. No need to be fancy, just an overview.
Why we chose Croatia, Poland and Austria – I was invited to a wedding in Vienna. My travel partner was interested in going to Poland to trace his roots because his grandmother was from a town outside of Krakow. Since we were going to Krakow, we figured we would also go to Warsaw since it is the capital and the other "major city" in Poland. We also wanted to go to the beach for some R&R. We were thinking of adding Romania, but Deirdre recommended Croatia which is known to have amazing sun, scenery and beaches. Ultimately the wedding in Vienna was called off but we still decided to go anyway since we had already started planning the trip.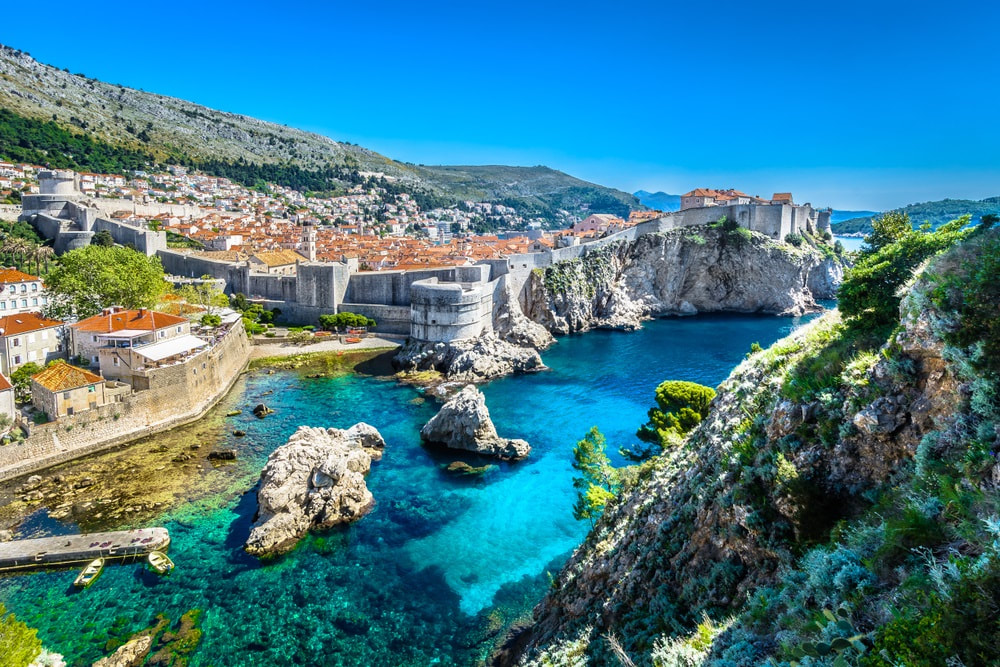 CITY 1: ​Dubrovnik, Croatia (Middleclass Europe / Currency = Kuna)​

The town of Dubrovnik is located on the Adriatic Sea and is definitely a nautical town. Their claim to fame is that Game of Thrones is filmed there and they have tons of GOT paraphernalia all over the shops. I wouldn't say Dubrovnik is super expensive (nothing like Vienna), but is it certainly NOT cheap (like Poland).
​
We stayed at the Ariston, Dubrovnik, Croatia and I thought the place was GREAT! You walk in to the lobby and it is overlooking the Adriatic Sea. It is clean, modern and nicely located in the Babin Kuk district in Dubrovnik, at the tip of a long walkway that connects all the resorts/hotels. The city bus is right outside the front door and is just a 10-15 bus ride to downtown.​Downtown initially appears to be very small and concentrated, but once you go through all the shops and main streets of the shopping district, you will find many more little streets that veer off and take you through streets lined with a small apartments, hostels, B&Bs, art galleries and even little bars overlooking the Sea. The views are beautiful and it is very easy to randomly wander around for hours and find little surprises all along the way.

Although somewhat pricey, the cable car up to the Panorama Restaurant is an experience. The view of Dubrovnik from that far up is pretty special and without a doubt not something you get to see every day (unless you work there). We didn't do much else as we were both really set on getting in some real R&R on this leg of our trip. We thoroughly enjoyed Dubrovnik and could have easily stayed there a lot longer.​If you want to share stories of your Enlighten Excursions Travels just email us at enlightenexcursions@gmail.com.