Group Getaways: The All-New Virgin Voyages
When it comes to travel innovations, it can sometimes seem like, as my mom used to say, "there's nothing new under the sun kiddo." Well for me that all changed recently when Richard Branson introduced Virgin Voyages. The more research and product training I did, the more I realized that these ships and itineraries are absolutely perfect for many of my clients' group getaways. Virgin Voyages is a sophisticated adults-only experience for those who want to travel and indulge. This is a great solution for group celebrations and gatherings from bachelor/bachelorette and birthday parties, to girl's trips, alumni reunions and anniversary parties.
Even the most dedicated landlubbers will find a lot to like about Virgin Voyages. It's a more customized dining experience where large buffets are a thing of the past. No more going to bed at 10pm out of boredom. No more rushing into a port destination just to grab a sandwich and a souvenir and run panting back to the ship.
Food and Drink Aboard Virgin Voyages
There are over 20 eateries on board the Virgin Voyages ships.
Yes, that's right-20+!
And each and every one of them has its own executive chef. All the food is fresh and MADE-TO-ORDER!
They have ample gluten-free and vegan options and there's even a 24-hour diner. (I really really want to use another exclamation point but I think you get the message.)
Water, soda, coffee, tea and juices are all included your sailing price. And remarkably the cost of a cocktail on the ship, won't break the bank. In fact, nothing about this sea voyage breaks the bank. Of course, you won't get ALL of this for Carnival Cruise Line prices, but you are also going to spend only half of what you'd normally spend on a luxury cruise.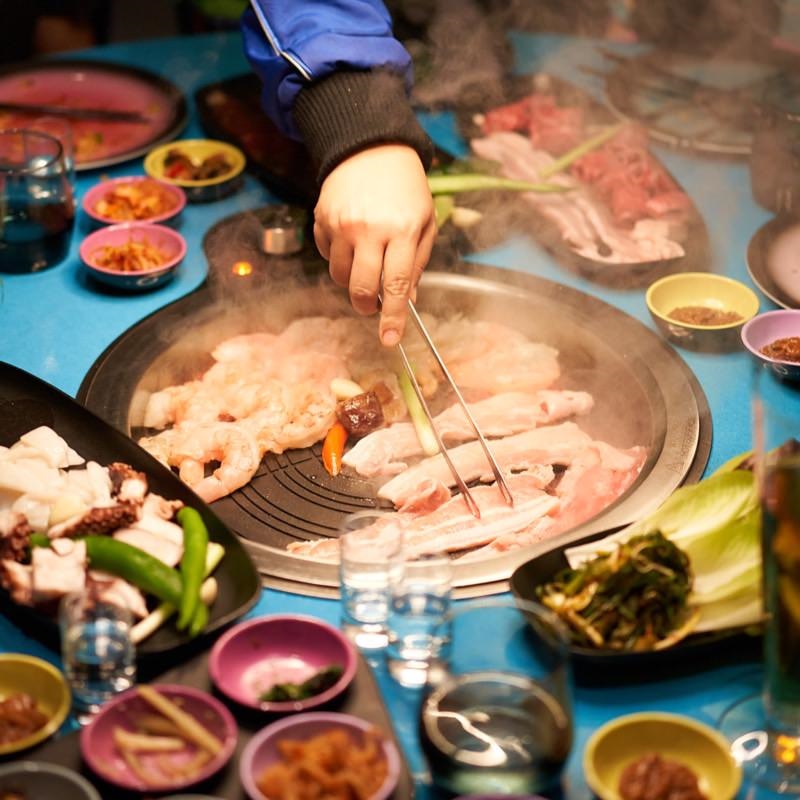 Virgin Voyages Entertainment
Well, if you do decide to go to bed before 10pm, it won't be because there is nothing on the ship to do. 
The entertainment on Virgin Voyages is off the chain. There are pop-up performances and stories under the stars. And if the red room or the manor at alluring night club are not your scene, then how about joining the late-night dodge ball game or perhaps the Texas hold-em' and Black Jack Tournaments? 
And, I admit that I don't know what live sea-horse racing is, but I'm on a mission to find out. From included fitness classes, trivia and cooking competitions, to contemporary and immersive comedy, theatre, music and dance performances produced by Tony award-winning producers and directors, Virgin Voyages Ships are a destination all on their own. This varied and abundant shipboard entertainment is one of the key reasons we love Virgin for group getaways.
Virgin Voyages Itineraries
So, if you manage to tear yourself away from this amazing ship, you'll be able to explore captivating places in the Caribbean Sea like Costa Maya, Mexico, Puerto Plata, Dominican Republic, Roatan Honduras, San Juan, Puerto Rico, and St. Croix, USVI.  
If you prefer to explore further afield, check out some of Virgin Voyages European ports like Gibraltor; Malaga, Cadiz, Palma de Mallorca, Ibiza, Funchal and Barcelona, Spain; Toulon and Marseille, France and Monte Carlo; Ajaccio, Olbia, Marina di Carrara, and Cagliari, Italy. 
And, if you're like me, you may think you've already seen all the Bahamas has to offer. But you most definitely have not if you haven't visited Virgin Voyages Beach Club in Bimini Bahamas.
I'm scheduled to set sail on Virgin Voyages Scarlet Lady for my next birthday and I can't wait! 
So, if you're there and you're looking for me, I may be in the ship's Karaoke Lounge or perhaps even the Tatoo Parlor. This particular story is definitely to be continued….
If you're ready to write your own story with your own squad and want some advice on when, where, and how to set sail, just reach out to us. We'd be happy to plan your next group getaway on Virgin Voyages.