If you've found yourself dreaming of Tuscany, I can tell you from experience, that your daydreams are justified. The enchanted city of Florence is at the very heart of Tuscany. But venture beyond the outskirts of Florence, and you'll find a slew of sun- and wine-drenched villages, each with its own distinct appeal. 
Tuscany is the epitome of the romantic getaway. The picturesque rolling hills and expansive vineyards of the Tuscan countryside, masterful Renaissance and Medieval art & architecture, flavorful local cuisine, and endearing hilltop villages all combine to provide an unforgettably romantic vacation experience.
And for those of you hoping to have the quintessential Tuscan Villa experience we've presented just a few of the many options for you to consider.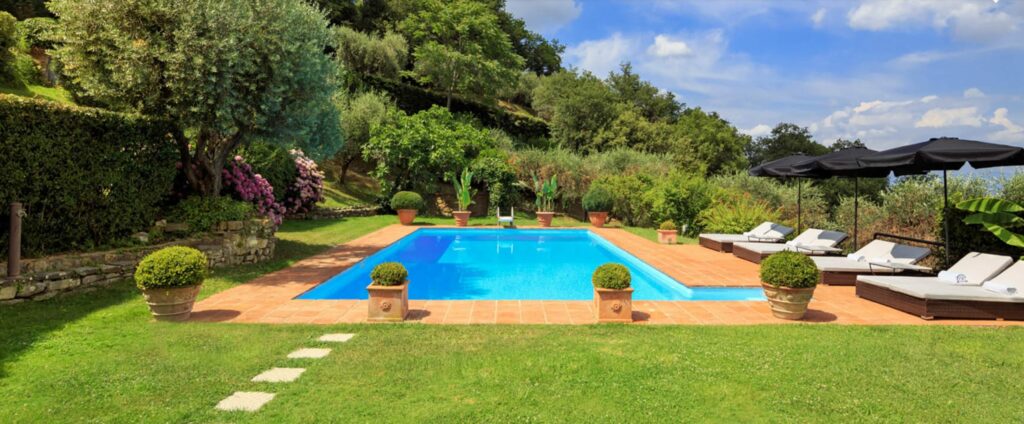 If you're looking for something modern and luxurious that also doesn't forsake that Tuscan 'je ne sais quoi', Villa Raffaello is a graceful and elegantly restored villa just outside Florence. This villa is perfectly positioned for those who want to explore pretty beaches, historic towns, art, architecture and luscious wineries. It can accommodate up to 4 couples, with 6 in the main house and 2 more in a completely independent studio on the grounds. It's just perfect for couples traveling together.


This gorgeous two-story villa is surrounded by large private panoramic landscaped gardens with pretty Mediterranean flowers, olive groves, and lemon trees. There is also a chic salt water swimming pool, typically open from May to September. The poolside lounge area is furnished with stylish daybeds and shady nooks.


To preserve its original charm, the interior of the main house has been newly renovated by a skilled Italian interior designer. The ground floor features a living room with an antique fireplace and floor-to-ceiling glass doors that lead to a stunning terrace with breathtaking views of Chianti's vineyard-blanketed rolling hills. The terrace is furnished for al fresco dining and it's ideal for aperitifs at sunset. There is also a fully equipped kitchen on the ground floor with direct access to a large paved terrace that's ideal for breakfast and barbecues. And last but not least there is a large bright formal dining room and as a bonus there is a smaller dining room with direct access to the garden. One flight up from the ground floor there are three large double bedrooms with en-suite bathrooms.


The independent studio has its own separate entrance and exit. This bright space includes a sitting area, a fireplace, a double bed, built-in wardrobes, and a bathroom with shower. There is also a small but fully equipped kitchen as well as a private enclosed patio.
Villa Hillock is a simple traditional Tuscan country house located on a beautiful private estate in the rolling hills south of Florence. It's convenient location makes it ideal for day trips to Tuscany's charming medieval towns and cities such as Florence, Arezzo, Siena, and San Gimignano.


This two-story villa is surrounded by a lovely garden with a private swimming pool and sun loungers. The tranquil picturesque garden with century-old trees including cypresses add a fairy book quality to the estate.


Perfect for 3 couples to share, Villa Hillock offers panoramic views of the Tuscan countryside. The interior is lavishly decorated with colorful fabrics while retaining the traditional elements of a Tuscan home. For example, there's a sitting room with a fireplace, and a dining room with seating for six guests that opens out to the garden. There is also a large fully equipped kitchen, an English cloakroom, and a guest bathroom on the ground floor. The first floor, which is typically the second floor in Europe, has three bedrooms, each with an en-suite bathroom.


During your stay, you have complete access to the estate's communal areas, which include two tennis courts, a shop-café with local organic products, and the main reception, which is open daily for information and concierge services.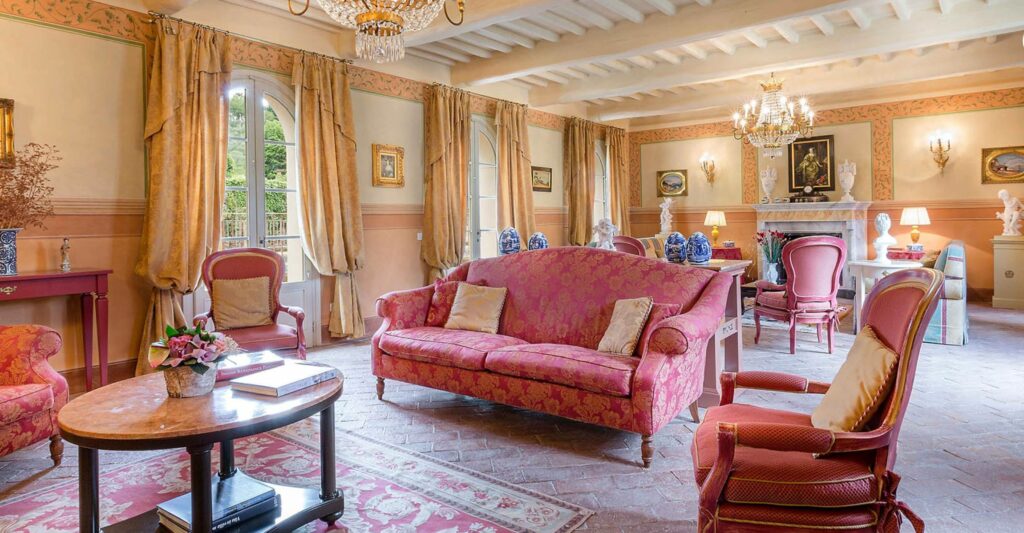 If you're thinking about a micro wedding or want to celebrate your birthday in style, then consider Villa la Sirenetta. Originally a 19th century hunting lodge this luxurious and beautifully restored villa lies just 10 minutes away from the ancient walled city of Lucca. When your stay is over you won't find it easy to tear yourself away from this elegant retreat encircled by lemon scented gardens, antique fountains and water features.
 
The villa's grounds include a lovely floodlit private swimming pool and plenty of sun loungers where you can relax and enjoy the peace and quiet of the Tuscan countryside. If you need to burn a few calories after your amazing Tuscan meals there is a fitness room with access to the garden right nearby. A great feature for people like me who enjoy reading a good book on vacation there is a reading room with wicker furniture and large windows overlooking the pool. This is an excellent place to unwind while reading a book or why not call in a masseuse!


This villa is truly the best of both worlds. It has numerous modern conveniences yet it has so many traditional features like, terracotta floors, antique furniture, decorative fireplaces, wooden beams and large windows with views of the neighboring hills and olive groves.


The main floor features an expansive living room with a fireplace, a formal dining room with seating for twenty-four people, and a fully equipped Tuscan-style kitchen. The kitchen opens out into a beautiful ancient courtyard, which is ideal for outdoor dining and has ample seating for all guests. A personal chef and maid service are provided six days a week during your stay at this magnificent villa.


The second floor of this villa, (called the first floor in Europe) has twelve bedrooms with en-suite bathrooms accommodating up to twenty-four guests.


In addition, there is a music room with piano and guitar, a game room with a pool table and a diverse assortment of games. There is even a wine tasting room with a private collection of Italian wines. This villa really does have it all!
Can you picture yourself in one of these villas? Whether the answer is yes or no, our luxury travel specialists can work with you to find the perfect villa for your next stay in Tuscany.