Best Vacation Spots: 5 Secret Italian Islands
When it comes to Italy's islands most people immediately think of the beautiful islands of Sicily, Capri, Sardinia and Ischia. But in a time where many of us seeking to find this same captivating Italian charm but with much smaller crowds, many of Italy's secret islands are definitely worth considering. Whether you prefer a secluded getaway or a more accessible vacation spot, we can help you to discover some of the best vacation spots in Italy today that are surrounded by crystalline waters.
If, like me, you have a mild obsession with volcanoes and volcanic islands then a visit to Pantelleria may be an excellent choice for you. Pantelleria is not for those seeking the typical beach vacation. However, the island does not disappoint in terms of fascinating history, culture and dramatic coastlines. Located closer to Africa than Europe, the island of Pantelleria is made of volcanic rock. This means that you will find an abundance of natural saunas and mud baths. The island's unique cuisine and architecture reveal its strong Arabic roots. But many civilizations (the Phoenicians, the Arabs, the Romans and the Spanish) have greatly influenced the island's culture.  There are many fascinating things to do on this island, from private cooking classes, wine tasting and relaxing spas to local caves, ancient huts and other prehistoric findings.
Off the coast of Western Italy nestled between Naples and Rome, lies the enchanting island of Ponza.  Some literary scholars believe Ponza to be the home of Circe, Homer's mythological sorceress who turned men into animals.  And, Ponza does have a sort of ethereal feel that certainly makes you wonder. Ponza's mostly rocky coastline will probably not appeal to beach lovers.  Yet, Ponza boasts crystal clear waters, steep white cliffs, and many hard-to-find bays and coves that are perfect for those looking for privacy. Snorkelers and scuba divers are also drawn to the island for this reason. For those who are not water sports enthusiasts, you may find the many hilly trails and cliffs a joy to explore. And, for those looking to avoid tourist throngs, this particular hidden gem is best avoided in August.
In Southern Italy one island perfect for those who want to leave the crowded city life behind is Panarea. This Aeolian Island, which is actually an inactive volcano, is home in the summers to international jetsetters like Bill Gates, the Bulgari family, Prince Laurent of Belgium and Beyonce. It's a great place for yacht charters or exploring the area in traditional wooden boats. But, in spite of its reputation as a tiny VIP island for the rich and famous, when you move away from the central port heading either north or south, Panarea's tranquil villages, awe-inspiring views, and secluded coves make this perfect little hideaway a shoe in for one of the best vacation spots in Italy.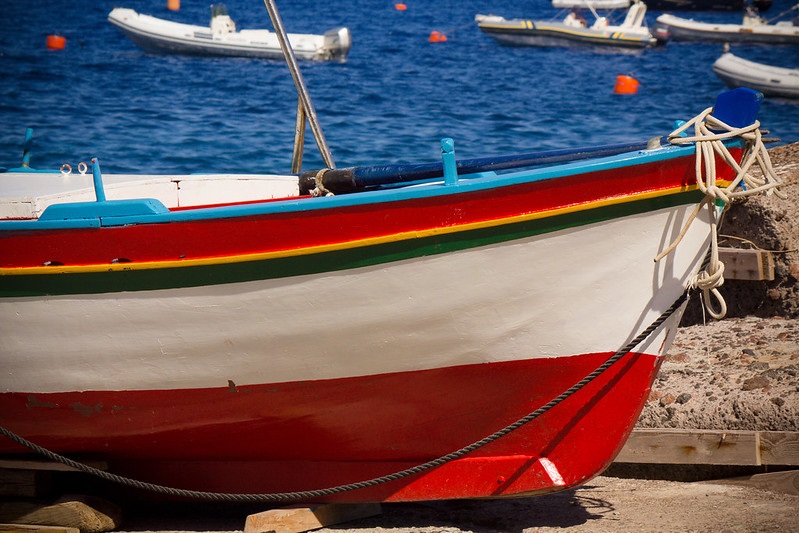 In the Mediterranean west of Sicily, with caves and grottoes possibly rivaling those of Capri, lies the beautiful island of Marettimo.  This largely unspoiled island hides over 400 caves in its purely rock coastline. One of the most remote Aegadi Islands, Marettimo offers an escape from busy traffic and densely populated areas. Marettimo's protected waters are perfect for diving and snorkeling, and you may also find joy in exploring the many beautiful walking trails. One hour-long hike leads you through luscious Mediterranean vegetation to the ruins of the castle of Punta Troia.
Elba rounds out our list of best vacation spots in Italy because unlike the other hidden gems discussed here, Elba boasts top-notch beaches. The largest island in the Tuscan Archipelago, Elba is an excellent choice for beach lovers. And because of its unique historical remains, Elba can also be a fascinating place for history buffs. Containing the remnants of a first-century Roman villa and sights such as a cable car that goes to the top of Monte Capanne, Elba is a hot-spot among locals during the summer holidays, so consider coming in the winter months if you're looking for more tranquility.
If you're looking for a hidden gem among Italy's breathtaking islands, talk to one of our travel consultants today to get started on making your Italian Island dreams a reality.