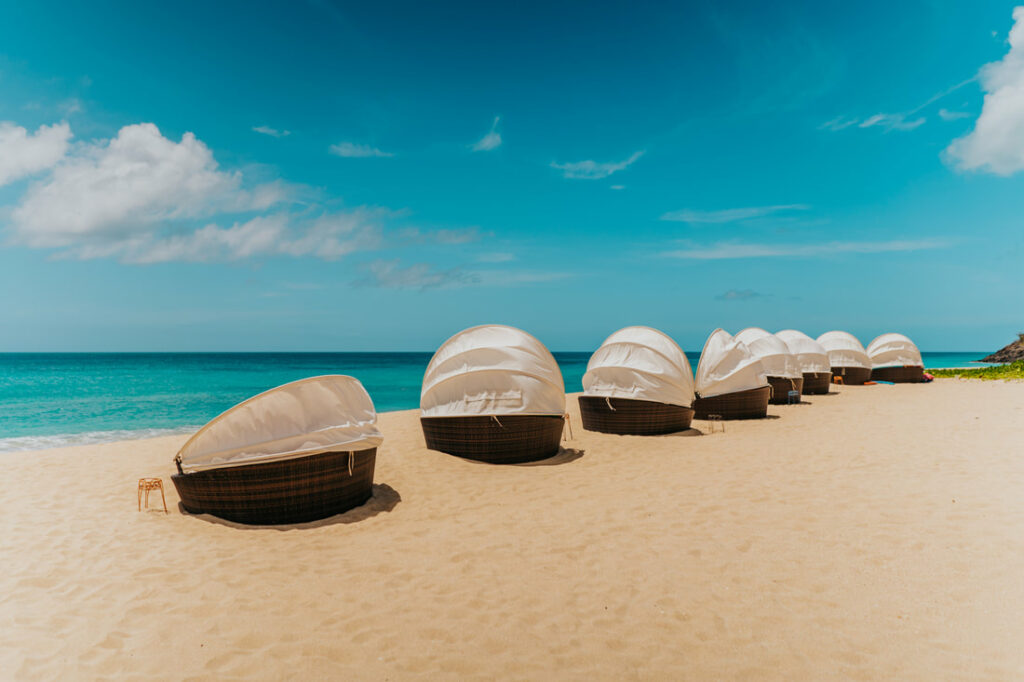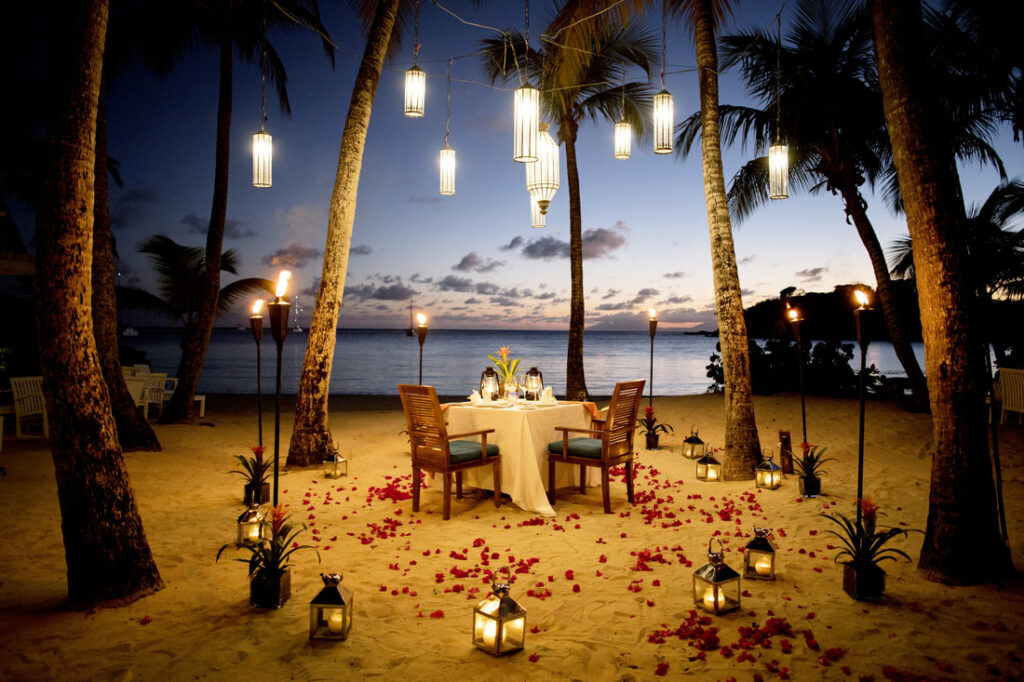 The 8-island nation of Antigua and Barbuda is named for its two largest islands- Antigua and Barbuda. Antigua is a volcanic island renowned for having one beach for every day of the year. Yes, that's right, Antigua has more than 365 beaches, many of which are beyond spectacular.  Antigua is almost completely surrounded by coral barrier reef which protects its pristine white-gold sands. This makes this island a beach lovers' paradise, especially since at only 11 miles wide by 14 miles long one can barely take a few steps without hitting the next beach! And of course a myriad of luxury resorts have made their home here. Let's not forget that Antigua is also known for it's world-class yachting, sailing, snorkeling and diving. 
Antigua's companion island – Barbuda, also sits atop an inactive volcano. This unspoiled island boasts expansive mangroves and seagrass areas since it is protected on its leeward side from the direct impact of oceanic waves. From wild horses and nesting sea turtles to species of sea birds now extinct everywhere else in the Caribbean, Barbuda is a nature lover's paradise. And if you're dying to sea sparkling pink beaches hop the boat from Antigua to Barbuda to check it out.
Visit local villages to explore Antiguan culture and folklore

Explore local sites & the beautiful Antiguan Rainforest on an Outback Safari

Take a Jerk Cooking Class

Snorkel the West Coast of the island with Antigua's exotic marine life

Take an Eco Kayak Tour
Carlisle Bay Antigua

Hermitage Bay All Inclusive

Hodges Bay Resort & Spa

Jumby Bay

Galley Bay Resort & Spa

Sandals Grande Antigua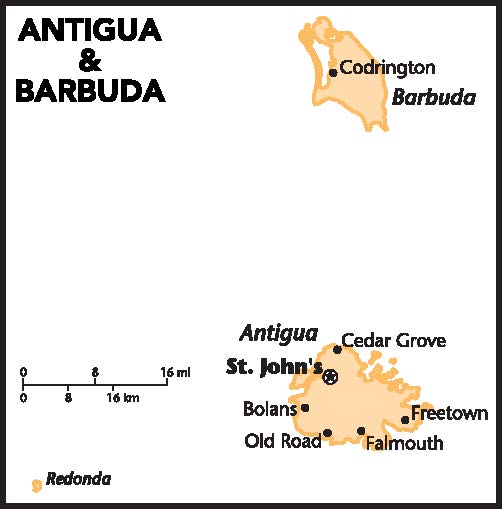 Located on the small island of Barbuda, Codrington is the center of life on this tranquil island, an ideal place to stay to explore the whole island
Barbuda is known for pink sand beaches, all easily accessible from Codrington. Visitors can relax on the beach with a cocktail for a casual day, or kick back at a beachfront destination for dinner.
Off the shore, visitors can experience Barbuda's gorgeous coral reefs on a snorkeling trip. For travelers who would rather stay dry, they can be appreciated from the comfort of a relaxing boat ride.
The capital of Antigua, St John's is located on the western coast of the island. The biggest city in Antigua and Barbuda, St John's has plenty of attraction to explore.
Home to colonial remnants like Fort James and the St John's cathedral, two of the most visited sights on the island, St. John's has well-preserved history to learn and explore. The Museum of Antigua and Barbuda provides an in depth walk through of the history of the area.
Access beautiful spans of beaches on any coast of the island from St John's, or experience the beautiful beaches right at St John's. Right off of the coast, visitors can also explore coral reefs in the clear blue waters.
St. John's is a food lover's paradise. Among the most well-known items of the food scene are high quality rum and fresh seafood, but the food scene in St. John's spans from rustic bars to idyllic seaside eateries to gourmet restaurants.
There is always something going on in St. John's, meaning there is something to satisfy any traveler whether they are in search of nightlife, good food, festivals, relaxation, or more.
Located on the southern part of the island of Antigua, Falmouth is a quiet town perfect for the laid back yet curious traveler.
Shops on Falmouth Harbor sell local goods and souvenirs and a selection of cafes provide a perfect place to relax with gorgeous views of the sea and the English Harbor located across the way.  
For history lovers, Falmouth offers plenty of historical sights. Visitors can take a hike to the nearby Fort Berkely, an English fort originally erected in the early 1700s to protect the English Harbor.
To go even further back in history, Dow's Hill Interpretation Center provides a look into precolonial history on the island. Located on a hill overlooking English Harbor, this center is also known for its views, which some say are the best on the island.
Book Your Dream Getaway Now
Enlighten Excursions Will Help Make Your Destination Dreams Come True