5 Reasons You Should Visit Los Cabos Mexico
There are at least a dozen reasons to visit Los Cabos, but, for the sake of brevity, we've compiled a list of the top 5 reasons you should visit Los Cabos Mexico on your next vacation. Warm weather year-round, magnificent luxury resorts, stunning mountains, beautiful beaches and world-class golf courses, need I say more? Well, don't mind if I do.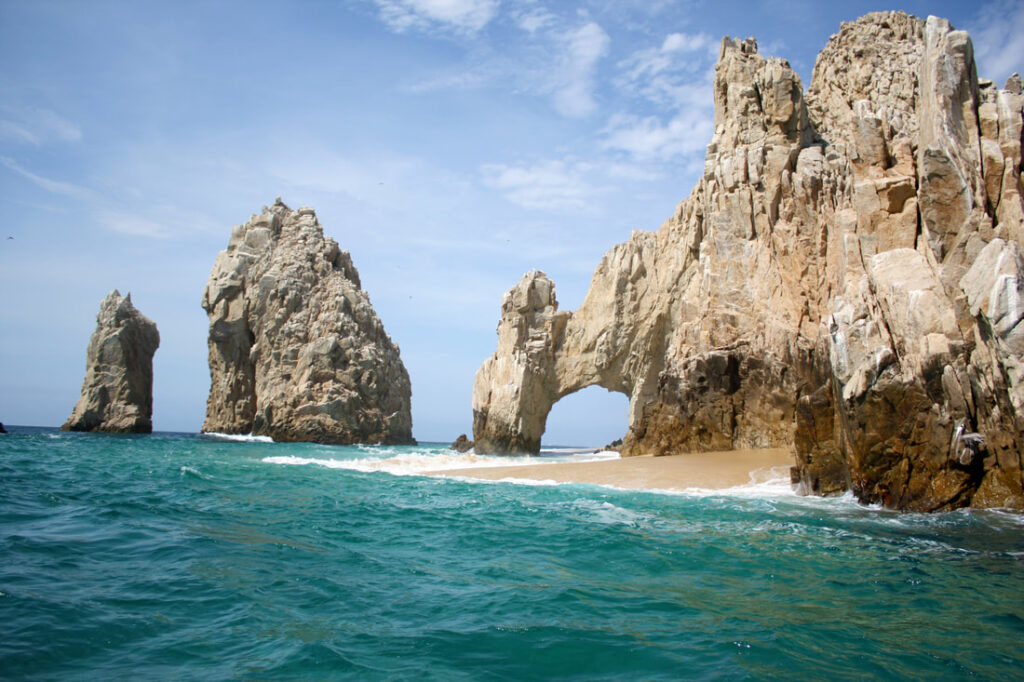 Los Cabos, located at the southern tip of the Baja California Peninsula, is a dream vacation destination with something for everyone.  The two towns that comprise Los Cabos– San Jose del Cabo and Cabo San Lucas– are each unique and amazing.  Travelers returning from Los Cabos often wish they had planned for more time to relax and explore this remarkable place. It is truly one of Mexico's most inspiring destinations. So, without further ado we discuss the top 5 reasons to visit Los Cabos.
Other top Mexico destinations, heats up during the summer. However, because the city is surrounded by desert mountains, it's a dry heat, making summer a great time to visit Los Cabos. Almost every day in Los Cabos seems perfect for jumping in the water and/or relaxing with an icy margarita. It's abundant sunny weather and frequently clear skies, makes Los Cabos a premier summer vacation destination.
Experiencing Mexican culture is a big part of the fun of visiting Mexico. The country is well-known for its vibrant culture, delicious food, and rich history. Los Cabos combines the best of all three to provide visitors with a truly unique experience. Wander the ancient cobblestone streets, admiring the historic buildings, while the aroma of delicious Mexican food entices you into a local restaurant. Then, explore the local culture by visiting the art district and discovering the talents of local artisans while also picking up some fun souvenirs to take home.
If your idea of a vacation is a jam-packed itinerary that keeps you on the move, Los Cabos is the place to be. While the area is full of luxurious resorts designed for relaxation, you'll quickly discover that there's much more to do. From the marina, you can depart for a whale-watching excursion or deep-sea fishing in the Pacific. Then, just behind the beach, go hiking or rent ATVs for an action-packed day in the Baja desert!
Because of its location at the southernmost tip of the Baja California Peninsula, Los Cabos is home to some of the country's most beautiful beaches. Although not many all-inclusive resorts here can boast calm swimmable beaches it is possible to make excursions to gorgeous calm beaches in the area. On one side of the Baja California Peninsula, there are the gentle blue waters of the Gulf of California. Beaches here are ideal for swimming and paddle boarding. On the other side, there are the deep indigo waters of the Pacific, which are ideal for fishing. Because of the many miles of coastline, the beaches are rarely crowded!
World-Renowned Golf Courses
Los Cabos is a golfer's paradise, with world-class courses and panoramic views from every hole. In 2018, Golf Digest named four of its 18 courses to its list of the World's 100 Best Courses. These courses are Querencia, Quivira, The Dunes at Diamante, and Cabo del Sol's Ocean Course.
If you've never considered a trip to Los Cabos, now is the time to do so. This Mexican paradise is ideal for all types of travelers. Whether you're traveling alone or with a group, no matter what your interests are, Los Cabos makes an amazing getaway.

Reach out to an Enlighten Excursions travel advisor today to plan you next amazing vacation!