5 Brand New Destination Wedding Resorts
Are you ready to make your dream destination wedding a reality? Whether you want to say "I do" at sunset on an ocean view roof top or walk down the aisle barefoot with your closest family and friends, there are top-tier luxury resorts ready to make your dream wedding a reality! In this article we discuss 5 brand new destination wedding resorts!
So, how often do new all-inclusive resorts pop up in Mexico and the Caribbean, you ask? Well, it really depends on a bunch of stuff like how many people are traveling there, current economic conditions, and what local leaders and  governments think about it all. In places like Cancun, Jamaica, Punta Cana, and Riviera Maya, you might see new all-inclusive resorts being built every couple of years to keep up with all the tourists. But lately, the COVID-19 pandemic has disrupted tourism, so things have slowed down a bit. That's why we are so excited to let you know about these new resorts.
Secrets Impression Isla Mujeres – Mexico
If you're seeking a hidden gem in Mexico for your dream destination wedding, look no further than the all-new Secrets Impression Isla Mujeres. Enjoy 5-star accommodations, world-class cuisine, and four completely customizable wedding packages.
You can personalize everything from ceremonies, décor, menus and more to create your ideal wedding event. Allow the Secrets professional wedding planners to manage every detail, whether your backdrop is a rooftop gazebo or you choose to walk barefoot down the aisle on one of the white sandy beaches.
Hyatt Zilara Riviera Maya – Mexico
Every inch of this gorgeous paradise in Mexico is filled with romance, luxury and ocean vistas. For destination wedding couples the brand-new Hyatt Zilara Riviera Maya all-inclusive resort has it all: picture-perfect backdrops such as lush gardens and beautiful white-sand beaches, wedding packages for every destination wedding size and more. All-inclusive amenities include a romance concierge, sophisticated suites, exquisite cuisine, oceanfront dining, 24-hour room service, live entertainment, and creative, delectable cocktails, premium top-shelf wines & liquors and non-motorized water sports.
Margaritaville Island Reserve Riviera Maya – Mexico
Picture all the fun normally associated with the Margaritaville name, then imagine this in an upscale setting. This is what you'll find when you have your destination wedding at Margaritaville Island Reserve Riviera Maya in Mexico. At this brand-new luxury 5-star all-inclusive resort you'll enjoy gourmet culinary experiences, stellar service and dynamic entertainment every day. You'll be awed by the stunning views of the Riviera Maya and enveloped in fun and relaxation. Choose from wedding venues surrounded by tropical gardens or with gorgeous ocean views in the background. Select one of their wedding packages that provide an array of carefully chosen amenities.
Royalton Splash Riviera Cancun – Mexico
Love is in the air at the stunning Royalton Splash Riviera Cancun resort! This exceptional all-inclusive retreat, nestled between the Cancun Hotel Zone and the Mayan Riviera, offers everything you need to create a dream destination wedding.
Simply leave your worries behind and indulge in a range of personalized wedding packages, designed to suit different tastes, preferences, and budgets. Choose the "Just the Two of Us" option for an intimate vow renewal or elopement. Pick the Refined package if a private reception after the wedding is important to you. Or select the Exclusive Wedding package for a larger wedding and premium add-ons. This package is absolutely perfect if you want to celebrate with your friends and family both before and after your wedding day. It includes a 2-hour welcome event and a 4-hour private reception after the wedding. If cost is a concern, consider the unique Complimentary Wedding package, which includes just the basics for your special day, or celebrate with your loved ones before and after your special day.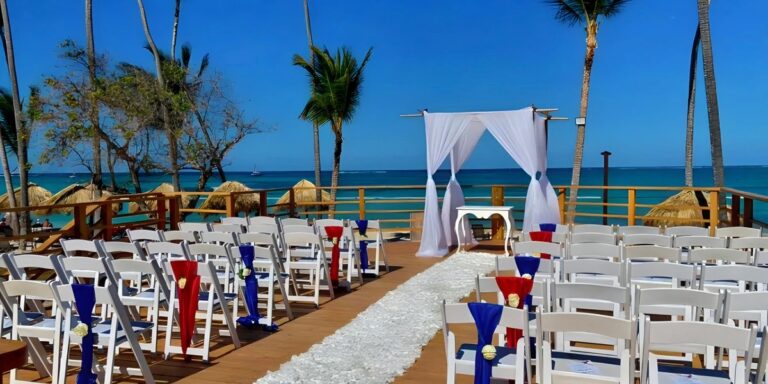 Dreams Flora Resort & Spa – Dominican Republic
Begin your next romance chapter at Dreams Flora Resort & Spa on Cabeza de Toro Beach. As you go down the aisle, the natural landscape of this magnificent site complements the breathtaking coastal vistas. Leave your worries behind and relax in paradise as the resort's wedding organizers manage every detail leading up to your special day.
The resort's unique wedding packages each provide the same fantastic wedding experience with extra romantic bonuses to add on. Each of the five wonderful packages includes something for all couples, whether you want a large gathering with loved ones from every aspect of your life, a cozy affair with just your closest friends and family or an intimate ceremony with just you and your sweetheart.
Keep in mind that it takes a while to plan and build a resort. Plus, there are rules about where and how many resorts can be built to protect the environment. So new resorts don't pop up every other week.  But stay tuned to our destination wedding blog and we'll keep you well-informed on new destination wedding resorts and venues.