Congratulations! You're engaged and ready to embark on a journey that will lead you to the most special day of your life – your wedding day. And, if you're reading this you've probably decided on a destination wedding. That's great! Destination weddings are a fantastic way to create lasting memories in a unique and exotic location. Typically, the ceremony lasts a very short 20 minutes or so. And we sometimes find that couples look for ways to hang on to those special moments a tiny bit longer.  They want to add a little extra time and a tiny touch of magic to their destination wedding ceremony. One way to do this is to incorporate one of these 14 beautiful wedding ceremony traditions.
In this article, we'll explore 14 time-honored traditions that will make your destination wedding ceremony truly unforgettable. From the symbolic pouring of sand to the release of beautiful butterflies, these traditions will not only add depth and meaning to your ceremony but will also create lasting memories for you and your loved ones.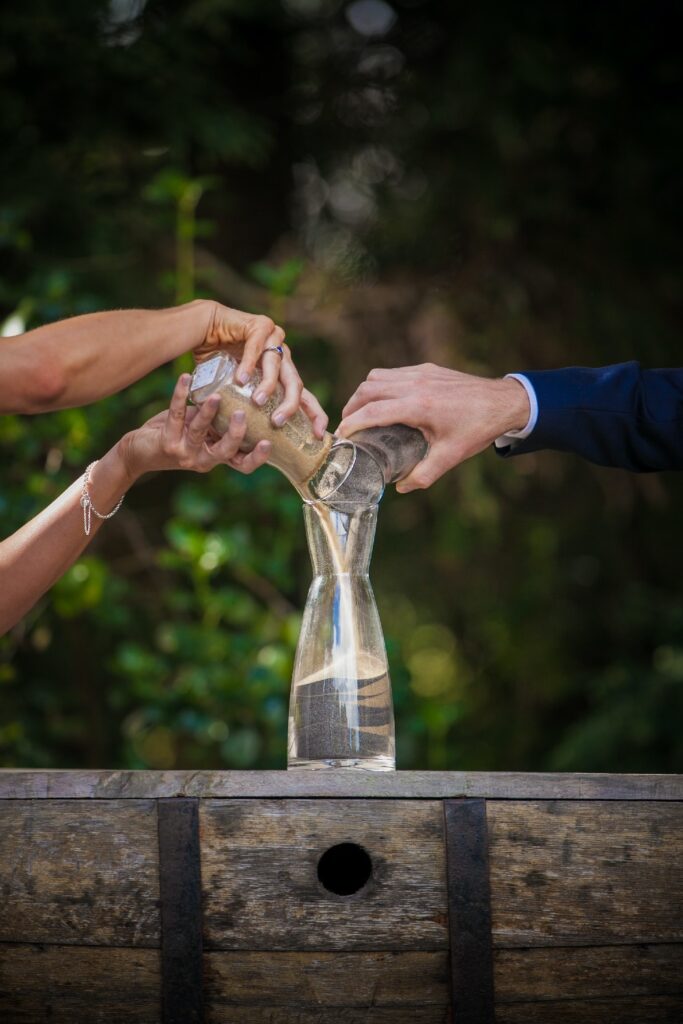 Of these 14 beautiful wedding ceremony traditions, I think that the sand ceremony is my favorite! It is a beautiful symbolic ritual that represents the blending of two lives into one.
During the ceremony, each partner pours a different colored sand into a single container. This symbolizes the joining of their separate lives into a unified whole.
My husband and I chose to do this for our destination wedding ceremony in Grand Turk, Turks and Caicos. Anyone who comes to our home sees our combined sand still on display.
I love the symbolism of this ceremony. And it is perfect for beach weddings, because it allows you to incorporate the natural elements of sand and sea into your special day.
Raise a glass to love! The wine ceremony involves the couple each pouring a different wine into a single glass. This creates a blend that symbolizes their coming together in marriage. The combined wine represents the sweet and sometimes bittersweet aspects of life, highlighting the commitment to sharing both joy and sorrow as a united couple. Wedding Officiant Eric Schwartz does a great job providing sample ceremony text for this on his website.
The phrase "tying the knot" has a literal meaning in this ceremony. This tradition originates from the ancient Celtic ritual called 'handfasting'. This ritual involved the couple's hands being bound together with a rope or ribbon, symbolizing their unity and commitment to one another. Another more modern twist on this involves the couple working together to tie a fisherman's knot at the altar. You can make this happen with just 2 pieces a rope and a quick YOUTUBE tutorial on how to tie a fisherman's knot. Even so, this simple tradition is a wonderful way to add a touch of symbolism to your wedding ceremony.
Similar to the "tying the knot" tradition, you can include the unity braid ceremony in religious and non-religious ceremonies. The braiding of the 3 strands often symbolizes the joining of one man, one woman, and God into a marriage relationship. Or many use it to symbolize different aspects of the relationship like trust, love and friendship.  During the wedding ceremony, the officiant, or another guest, holds a small metal ring with three attached strands. Then the bride and groom braid the cord of three strands together.
Originating from African-American wedding traditions, "jumping the broom" is a ceremony in which the couple jumps over a broom together. This tradition symbolizes the sweeping away of the old and the welcoming of a new beginning. It's a powerful and visually striking ceremony that adds a sense of history and cultural significance to your wedding day.
There are several online articles devoted to this tradition. In addition, you can even pick up the book "Jumping the Broom" by Harriet Cole, the ultimate authority on this tradition. In fact, the author updated this book for the 21st century bride. So be sure to look for the second addition.
The unity candle ceremony is a classic tradition that involves the lighting of a single candle from two separate candles held by the couple. The two flames symbolize the individual lives of the bride and groom, while the central candle represents their new life together. As the couple lights the unity candle, it signifies their commitment to supporting and nurturing their shared life. A twist on this is to have the mothers of the bride and groom light the unity candle. This symbolizes two families uniting.
If you're looking to add a touch of grandeur and military tradition to your destination wedding, consider an arch of swords exit. 
This tradition also called the saber arch, originated from military weddings. It involves the couple walking under an arch of crossed swords or sabers. 
As the couple passes through the arch, the participants lower their swords, symbolizing protection, honor, and respect for the newly married couple. 
If you're not in the military, or are perhaps short on swords, the loving arms of your loved ones might also work. Of course, it certainly won't be the same as a true arch of swords, but your day is all about you. Do as you please.
You can get even more creative, using flowers, branches, or sparklers to form a tunnel for the couple. I just love the implication of this. 
Because, to me, just like the wedding ceremony itself, this gesture seems to be a reminder of the role your community plays in your life as a couple.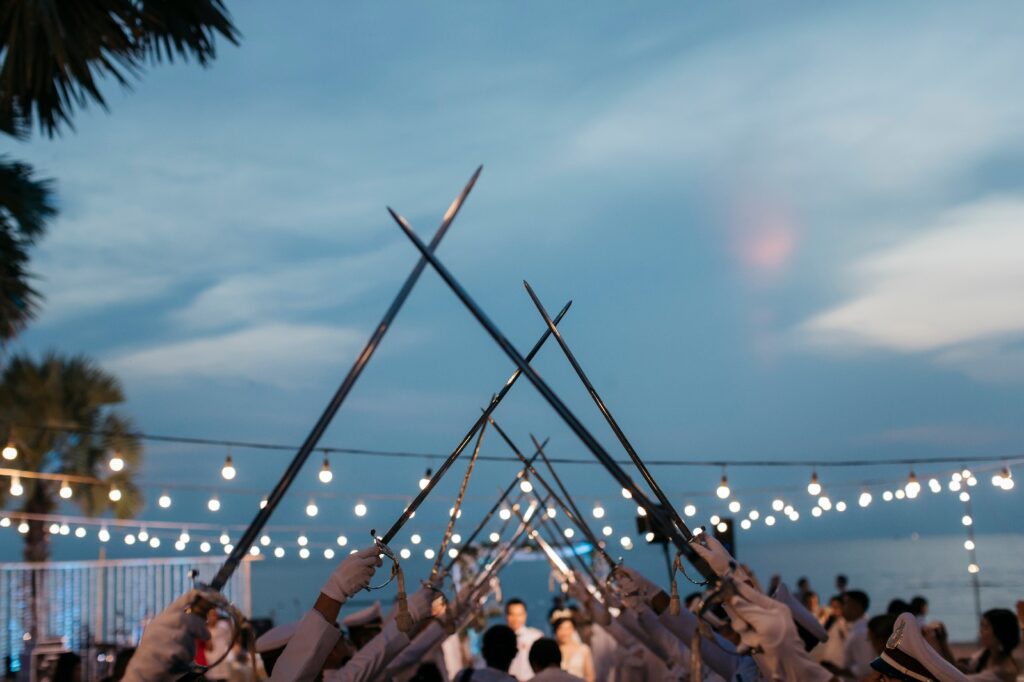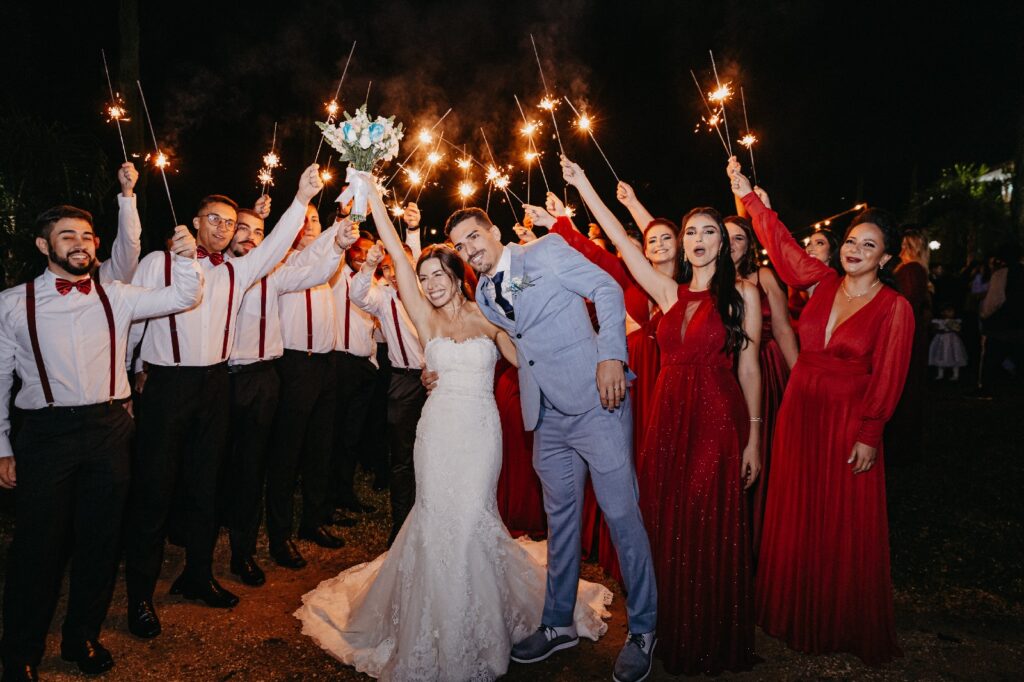 For couples with a strong religious or spiritual background, a group prayer ceremony is a deeply meaningful addition to the wedding ceremony. Gather your closest family and friends, and have them join hands or form a circle around you. This ceremony allows everyone to come together in prayer, sending their blessings and well wishes for your marriage.
The lasso ceremony, also known as "el lazo," is a traditional Mexican wedding ritual that symbolizes the union of the couple. A floral or beaded rope, in the shape of a figure-eight. The couple's godparents or mentors place the lasso around the couple's shoulders in a loop. The loop signifies their eternal bond and the everlasting love that they share. This ceremony is a visually stunning and meaningful addition to any destination wedding.
For Jewish couples, the signing of the Ketubah is a cherished tradition. The Ketubah is a beautifully decorated marriage contract that outlines the couple's commitments to one another. Although couples traditionally sign the ketubah before the ceremony with witnesses in private, you may want to consider signing it during the ceremony. It's true that this approach is less traditional. But, it will involve all of your wedding guests in this very special moment which symbolizes a couple's dedication to their marriage and their shared values.
Symbolizing warmth, protection, and support, the blanket wrap ceremony involves the couple being wrapped in a special blanket or quilt by their loved ones. Guests envelop the couple in the comforting embrace of the blanket. This act represents the collective love and support of their family and friends. This tradition is particularly fitting for outdoor weddings in cooler climates or during winter months.
If you're planning a destination wedding that incorporates Indian traditions, the Tilak ceremony is a wonderful addition. During this ritual, the groom's forehead is adorned with a red vermilion mark, known as the "tilak." The mark represents blessings and good fortune. It is typically applied by a close family member or the bride's parents. The Tilak ceremony is a beautiful way to honor Indian customs and infuse your destination wedding with cultural richness. Check out this article from the Hindu American Foundation to learn a little more about Tilak.
A truly enchanting way to conclude your destination wedding ceremony is with a butterfly release. As a symbol of transformation and new beginnings, the release of butterflies adds a touch of whimsy and natural beauty to your special day. The couple and their guests can release these delicate creatures into the air, witnessing the colorful fluttering wings as they take flight.
The ritual of releasing butterflies symbolizes different things in different cultures and religions. When released at a wedding they typically symbolize the beginning of the couple's new life together as husband and wife. Check out this helpful guide on how to go about releasing butterflies at your wedding.
I can't believe that I almost forgot about the rose ceremony. After I had fully completed this article, my grandson came for a sleepover. And, as usual, we were moving everything out of his reach. The vase that contains the artificial roses we exchanged at our destination wedding ended up on my desk right in front of my computer (along with our pretty sand vase). It almost seemed to say, "Hey don't forget about me!"  
Picture this: you and your spouse to be are surrounded by breathtaking scenery, with palm trees swaying in the gentle breeze, waves crashing against the shore, and the warm sun shining down on you. You've poured the unity sand, exchanged rings, said your "I dos", and kissed. That's when the rose ceremony comes in! It adds that extra touch of romance and symbolism. During this beautiful ritual, you and your partner exchange roses as a symbol of your love and commitment. For us it was a tearful, joyful, heartfelt gesture that spoke volumes.
And, perhaps it could be absolutely perfect for your destination wedding too! Whether you've chosen a tropical island, a charming European town, or a stunning mountain retreat, the rose ceremony effortlessly blends in with the enchanting surroundings. The natural beauty of your destination becomes the backdrop for this romantic gesture, creating an unforgettable and Instagram-worthy moment.
Your rings you gift to each other before you are pronounced married. But, the single red rose, which for centuries has been the ultimate symbol of love, will be the first gift you give to each other as a married couple. My husband and I chose artificial roses to keep as a daily reminder of the way we felt on that day. But many fellow romantics prefer the look, touch, and perfume of fresh roses. Well, you know my philosophy, it's all about you!
Which Ceremony Traditions to Include
Incorporating any one of these 14 beautiful wedding ceremony traditions into your destination wedding ceremony could add an extra dash of love, culture, and symbolism that will be remembered for a lifetime. Each tradition brings its unique charm and significance, allowing you to tailor your ceremony to reflect your feelings, personal beliefs, heritage, and aspirations as a couple.
Remember, it's essential to research and understand the cultural and historical context of each tradition you choose to incorporate in your wedding. In addition, be mindful that respect and sensitivity are paramount when embracing customs from different cultures. Work closely with your wedding coordinator or officiant to ensure the chosen traditions are appropriately represented and respectfully executed.
Any one of these 14 beautiful wedding ceremony traditions can infuse your destination wedding with an even deeper sense of meaning. And, this is bound to create lasting memories for you and your loved ones. It may also serve as a reminder of the love and commitment you share. So, embrace the magic, celebrate your union, and embark on this incredible journey as you say "I do" in a destination wedding ceremony that has a touch of cherished tradition.